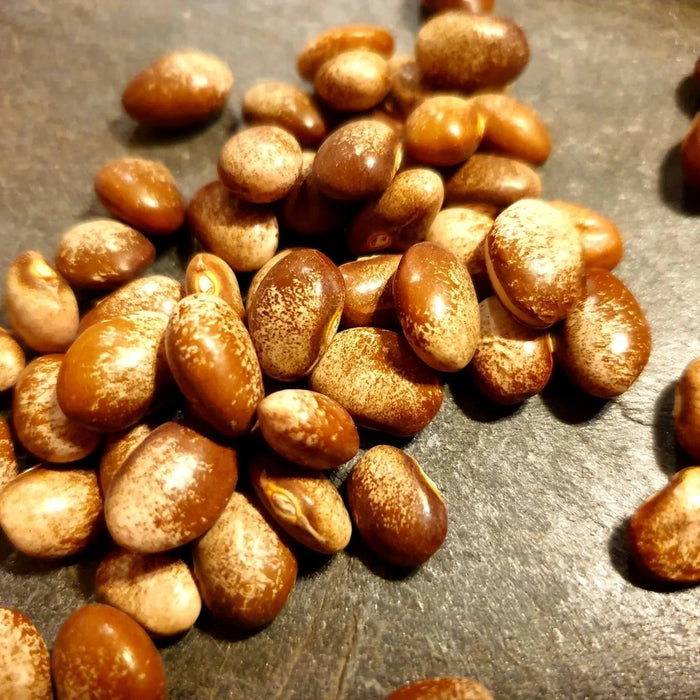 Bean Seeds - Cherokee Turkey Craw
Sold out
Original price
$2.00
-
Original price
$2.00
25 Seeds

70-80 Days from Planting/Transplanting

Pole Climbing Variety



History:
The Cherokee Turkey Craw Bean possesses a deep-rooted history with origins among the Cherokee people. The name "Turkey Craw" comes from an old tale about the beans being traditionally stored in a turkey's crop, illustrating the close connection between this bean and its Native American growers.
Uses:
These beans, when mature, are often dried and stored, making them a staple for soups and stews during the colder months. Young pods can be snapped and cooked, offering a crisp, green-bean-like flavor. Their hearty taste and versatility make them a cherished addition to many traditional dishes.
Growing Habits & Planting Instructions:
Being a pole variety, these beans love to climb. Plant seeds 1 inch deep, 4-6 inches apart, near a trellis or other support structure. Rows should be spaced about 3 feet apart. They prefer full sun and well-drained soil, and regular watering will ensure consistent and healthy pod development.