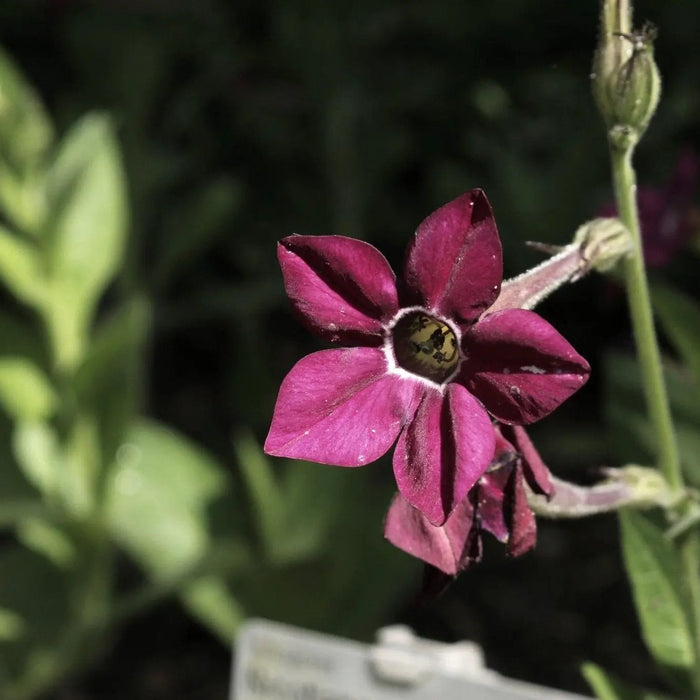 Nicotiana Seeds - Bronze Queen
Original price
$2.00
-
Original price
$2.00
Seed Count: 100 Seeds
Maturity Date: 70-80 days from planting/transplanting
Plant Type: Annual
Flower Color: Bronze
Height: 24-30 inches
Sun Requirements: Full sun to partial shade
Soil Requirements: Well-drained soil
Additional Information: Attracts pollinators and emits a pleasant fragrance
History: The Bronze Queen Nicotiana is a captivating variety of flowering tobacco, originally native to South America. Over the years, this particular variety has been well adapted to a broad array of climates around the world, making it a versatile addition to gardens globally. Its unique bronze-colored flowers set it apart from the more common white and green tobacco flowers. Historical records suggest that Nicotiana has been cultivated for both its ornamental and medicinal properties for centuries. In South American tradition, the tobacco plant has been revered for its multifaceted use and is deeply embedded in cultural rituals.
Uses: Bronze Queen Nicotiana is primarily celebrated for its ornamental attributes. With bronze-colored flowers that offer an uncommon hue in garden settings, this plant brings an aesthetic edge to any garden. Aside from its visual appeal, Bronze Queen emits a soft, inviting fragrance, particularly as the evening draws near. This scent adds another layer of sensory pleasure to the garden experience. Additionally, the plant acts as a magnet for various pollinators, enriching the local ecosystem. While the plant itself is poisonous if consumed, its striking appearance and charming scent make it a worthy candidate for outdoor ornamental plantings or as part of a cut flower arrangement.
Growth Habit and Planting Instructions: Bronze Queen Nicotiana is an annual plant that prefers full sun to partial shade. It typically grows to a height of 24-30 inches, making it a suitable mid-range plant in a mixed flower bed. For best results, opt for well-drained soil with moderate fertility. Surface-sow the seeds, as they require light to successfully germinate. Spacing should be between 12 and 18 inches to allow for ample growth and air circulation. Consistent moisture is essential for optimal plant health, so be sure to water regularly but avoid waterlogging the soil. The plant will generally reach maturity within 70-80 days from planting or transplanting, after which you can expect a consistent blooming period throughout the season.