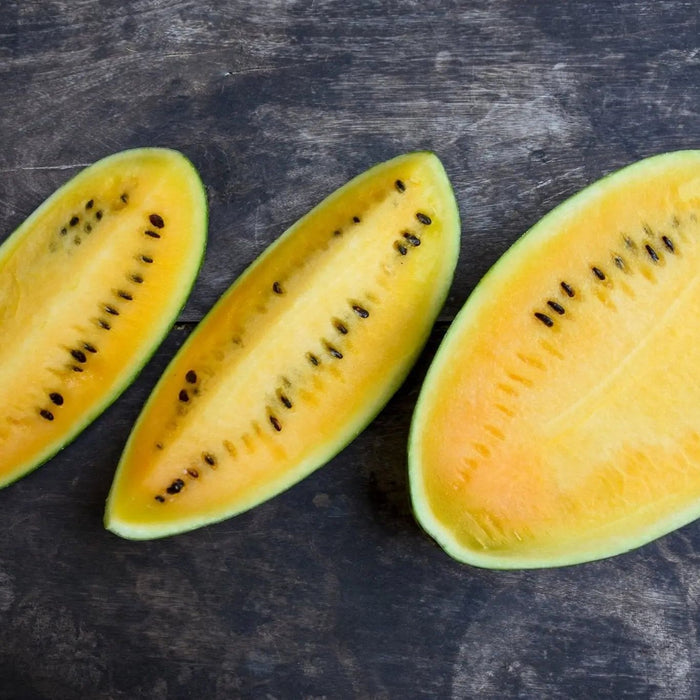 Watermelon Seeds - Moon and Stars Yellow Flesh
Original price
$2.00
-
Original price
$2.00
Seed Count: 15 Seeds
Maturity: 80-90 Days from Planting
Weight & Size: Fruits weigh between 15-25 pounds with a diameter of 12-18 inches
Unique Appearance: Dark purple skin speckled with yellow spots
Flesh Color: Lemon-yellow
Plant Growth: Vigorous vine reaching 10-15 feet in length
Growing Requirements: Full sun, warm temperatures, well-drained soil, and consistent watering
Seeds: Small, black, and edible
Origin & History:
The Moon and Stars Yellow Flesh Watermelon stands as a testament to the beauty and uniqueness of heirloom produce. Its rich history traces back to times when farmers and gardeners took pride in cultivating rare varieties. This particular watermelon, with its cosmos-inspired appearance, soon became a favorite for its sweet taste and distinct visual appeal, marking it as a cherished relic among heirloom enthusiasts.
Uses:
Beyond its obvious use as a refreshing treat, this watermelon serves a dual purpose. Its brilliant yellow flesh, paired with its sweet and juicy taste, makes it a summertime favorite. However, its stunning exterior—mimicking a clear night sky—renders it equally valuable as a decorative piece. Whether you're looking to create an aesthetically pleasing garden centerpiece or wanting to impress guests at a summer feast, this watermelon delivers on both fronts.
Growing Habits & Planting Instructions:
Nurturing the Moon and Stars Yellow Flesh Watermelon requires dedication. Begin by choosing a location bathed in full sun. The watermelon thrives in warm temperatures, making it ideal for regions with long, hot summers. Owing to its expansive growth, allocate ample space and consider using supports like trellises. Direct-seed into the ground or start indoors, transplanting seedlings when they boast 2-3 leaves. Given its size, the plant is a heavy feeder, so integrating organic matter or fertilizer will greatly benefit growth. Throughout its growth phase, especially during flowering and fruit-setting, ensure a steady water supply.