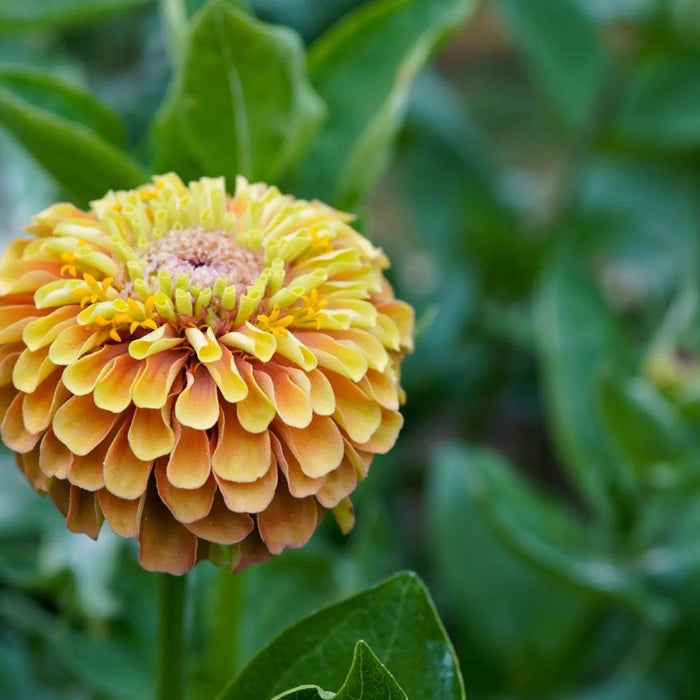 Zinnia Seeds - Queen Lime With Blush
Sold out
Original price
$4.00
-
Original price
$4.00
Seed Count: 25 Seeds
Maturity Date: 60-75 Days
Plant Type: Annual
Flower Colors: White, pale lavender, pale lilac, and more
Plant Height: 18-24 inches
Flower Size: 2-4 inches in diameter
Light Requirements: Full Sun
Soil Requirements: Well-drained, moderately fertile soil
History: The Queen Lime with Blush Zinnia is a variant in the celebrated Queen series of Zinnias, renowned for their exceptional colors and sturdy growth. This particular variety is a delightful deviation from the usual, offering a softer palette of whites and pastels. Zinnias originally hail from Mexico and have found their way into gardens around the globe due to their vibrant blooms and ease of care. The Queen Lime with Blush is a relatively new addition but has quickly garnered attention for its multi-colored, long-lasting blooms.
Uses: The Queen Lime with Blush Zinnia serves multiple purposes in both gardens and floral arrangements. Its varied color range offers a more subtle beauty compared to traditional Zinnias, making it versatile for different garden styles. Its flowers are equally stunning when used in bouquets or standalone arrangements. The blooms not only add a romantic touch but also have a "cut-and-come-again" quality, meaning they can be harvested multiple times throughout the season. This makes them highly valuable for anyone looking for a reliable source of fresh flowers. Moreover, like many Zinnias, these plants attract pollinators, enriching your garden's biodiversity.
Growth Habit and Planting Instructions: The Queen Lime with Blush Zinnia is a relatively compact plant, reaching heights of 18 to 24 inches, making it suitable for both borders and container gardening. For best results, plant in an area that receives full sun and has well-drained, moderately fertile soil. Sow the seeds directly into the garden after the last frost has passed, spacing them about 9 to 12 inches apart. Lightly cover with soil and water generously. Seedlings should emerge within 7 to 14 days. The plants are relatively heat-tolerant but benefit from consistent watering, especially in dry periods. Expect blooms to appear 60 to 75 days after planting, and remember to deadhead spent blooms to encourage further flowering.