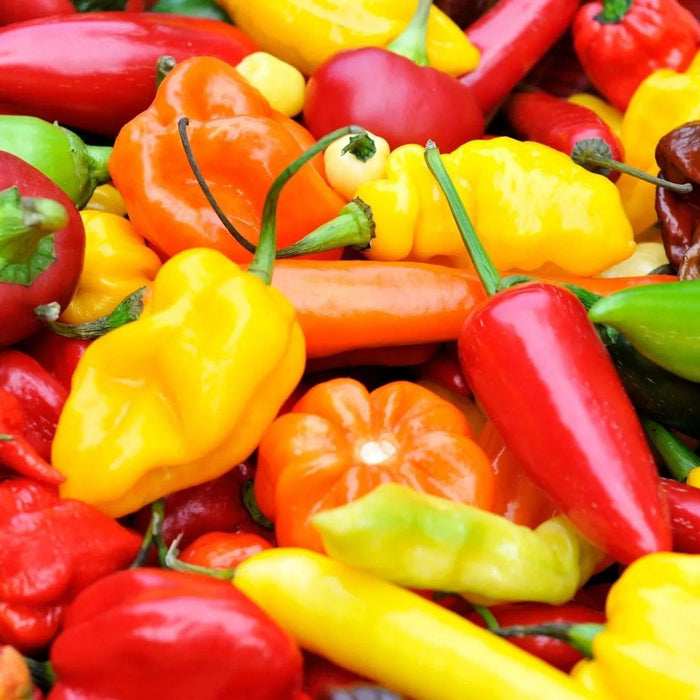 Pepper Seeds - Hot - Spicy Salsa Blend
Save

28

%
Save

28

%
Original price
$2.75
-
Original price
$2.75
25 Seeds
5 Mixed Spicy Peppers
Beautiful Colors and Garden Arrangement
Versatile Mix for Various Dishes
Convenient Multi-Variety Pack
Features Hungarian Wax, Anaheim Chili, Long Slim Red Cayenne, Ancho (Poblano), and Jalapeno
Ideal for Salsa and Other Spicy Dishes
Perfect for Gardeners Looking for Diversity
History: The Spicy Salsa Blend is a culmination of gardeners' favorites, bringing together five distinct varieties of hot peppers that have graced gardens and kitchens for generations. The blend was crafted to provide gardeners with the convenience of cultivating diverse pepper varieties without needing to purchase multiple seed packets. Each variety in the mix has its own unique history, originating from different parts of the world, and together they offer a vibrant and flavorful assortment.
Uses: The Spicy Salsa Blend peppers are perfect for crafting a variety of spicy dishes. From the mild heat of the Ancho (Poblano) to the sharp kick of the Jalapeno, there's a pepper in this blend to satisfy every heat preference. These peppers are ideal for making salsas, sauces, or simply grilling and serving as a spicy side dish. Each pepper brings its own distinct flavor and heat level, offering a myriad of culinary possibilities.
Growing Habits & Planting Instructions: For best results, sow seeds indoors 6-8 weeks before the last expected frost. Once the seedlings are ready, transplant them outdoors in a location with full sunlight and well-draining soil. Ensure plants are spaced 18-24 inches apart to provide ample room for growth. Each variety in the Spicy Salsa Blend may have slightly different growth habits, but they all prefer similar conditions: warm temperatures, consistent watering, and well-fertilized soil. As the peppers mature, they will display a beautiful array of colors, making your garden both delicious and visually stunning. Harvest when the peppers reach their full color for the best flavor and heat.