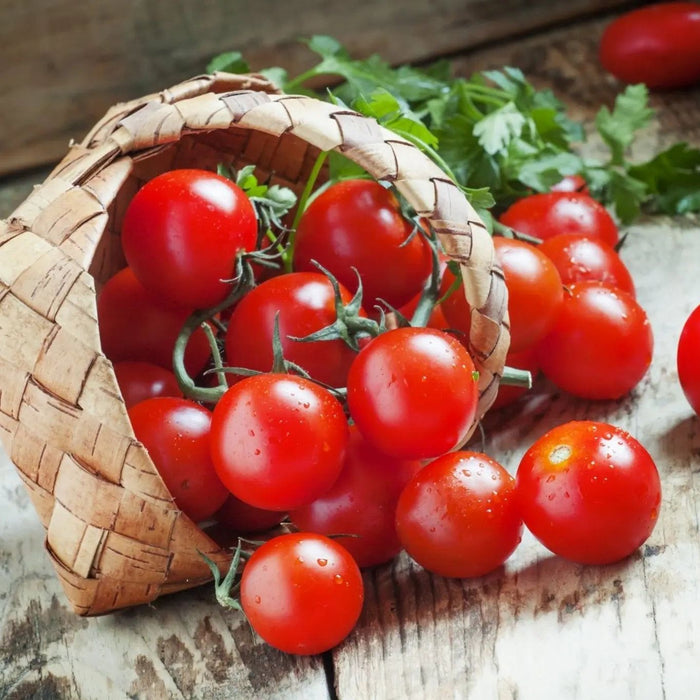 Tomato Seeds - Tommy Toe
Original price
$2.00
-
Original price
$2.00
Seed Count: 25 Seeds
Maturity: 70 Days
Fruit Type: Red Cherry Tomato
Growth Habit: Indeterminate
Flavor Profile: Tart and Complex with an Old-Fashioned Full Taste
Color: Burgundy
Origin: Ozarks, dating back to 1900
Recognition: Top Billing in an Australian Taste Test
History: Tommy Toe Tomato, originating from the Ozarks around 1900, is a cherished heirloom variety known for its rich history and exceptional flavor. This variety has stood the test of time, maintaining popularity due to its robust taste and adaptability. It gained significant recognition after winning top honors in an Australian taste test, where it was preferred over 100 other varieties, further cementing its status as a top choice among tomato varieties.
Culinary Uses: The small, burgundy fruits of the Tommy Toe Tomato are prized for their tart and complex flavor, reminiscent of old-fashioned tomatoes. This variety is versatile in the kitchen and is excellent for fresh eating, whether in salads, as a snack, or as a vibrant addition to various dishes. Their full-bodied flavor makes them a fantastic choice for gourmet recipes, where their taste can truly shine.
Growing Habits & Planting Instructions: Tommy Toe Tomatoes exhibit a vigorous indeterminate growth habit, allowing them to grow tall and produce fruit continuously throughout the growing season. They are well-suited for small to large gardens. For best results, plant the seeds in well-drained soil in a sunny location. Sow the seeds about 1/8 inch deep and space them about 24-36 inches apart to allow ample room for growth. Providing support through staking or caging is essential due to their indeterminate nature. Regular watering and occasional fertilization will encourage a healthy and bountiful harvest. With a maturity period of approximately 70 days, these plants will yield delicious cherry-sized tomatoes that are sure to be a garden favorite.