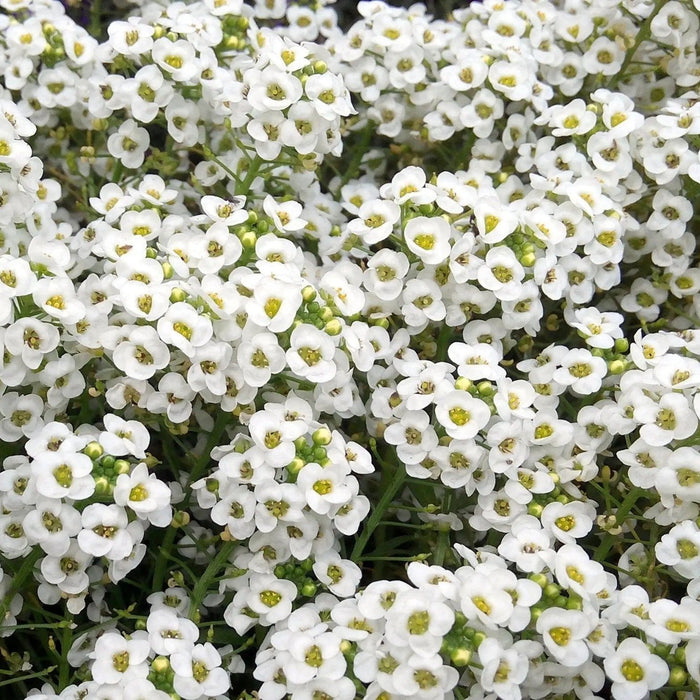 Alyssum- Carpet of Snow Seeds
Sold out
Original price
$2.50
-
Original price
$2.50
300 Seeds

Annual
Blossoms continuously from spring to fall
Magnet for pollinators such as bees and butterflies
Dense clusters of pristine white (occasionally pink-tinged) flowers
Flourishes in full sunlight with good soil drainage
Rapid growth with minimal upkeep required
Perfect for front garden beds, walkways, or pot arrangements
Origin & History:
Carpet of Snow Alyssum, a variant of the broader Alyssum family under Brassicaceae, finds its ancestral home in the Mediterranean's sun-kissed lands. From its humble beginnings as a modest wildflower, it has transitioned into a treasured ornamental delight, acclaimed for its enduring blooms and sweet scent. Over time, it's been entwined with various cultural tales and myths, where it symbolizes purity, allure, and elegance.
Uses:
The Carpet of Snow Alyssum offers more than just visual pleasure. Its scented blossoms exude a delicate perfume, serenading gardens with nature's olfactory gift. Furthermore, this variety performs an ecological role by luring vital pollinators like bees and butterflies, aiding in pollination and ensuring the environment's health. This versatility extends to its planting locations, whether it be neatly arranged garden beds, decorative paths, or decorative pots.
Growing Habits & Planting Instructions:
Cultivating Carpet of Snow Alyssum is a straightforward affair, suited for both gardening novices and seasoned green thumbs. Select a sunny spot that offers soil with good drainage. Although it's feasible to sow seeds outdoors after the threat of frost has passed, initiating them indoors can provide a jumpstart to the growth process. Implant seeds just below the soil and anticipate sprouts within a week or so. When nurtured, the Alyssum becomes a resilient plant, demanding little yet granting a profusion of snowy blossoms.
---
Embark on a gardening adventure with our Carpet of Snow Alyssum seeds. They're not just seeds but a promise of beauty, fragrance, and nature's symphony. Imagine a garden where every Alyssum bloom becomes a shimmering star, and together, they form a radiant constellation. Begin your Alyssum narrative today, and let your garden narrate a tale of beauty and nature harmoniously intertwined.