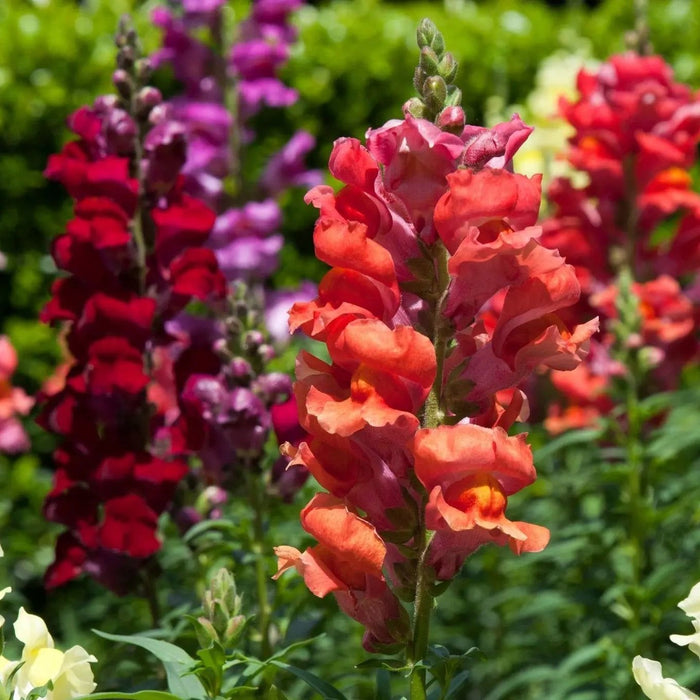 Snapdragon Seeds - Baby
Original price
$2.00
-
Original price
$2.00
Seed Count: 200 Seeds
Maturity Date: 60-70 days from planting
Plant Height: Up to 10 inches
Plant Spread: Up to 12 inches
Sun Requirements: Part sun to full sun
Soil Requirements: Well-drained soil
Special Features: Drought-tolerant, deer-resistant, attracts pollinators
Additional Info: Heirloom, open-pollinated, and non-GMO seeds
History: Baby Snapdragons, scientifically known as Linaria, are native to the Mediterranean region and have been cherished for generations. These charming little flowers are often referred to as "Toadflax," and they captivate gardeners and flower enthusiasts alike with their delicate, snapdragon-like blooms. The name 'Baby Snapdragon' itself suggests a smaller, endearing version of the more commonly known Snapdragon flower. In years past, these annuals have been used both ornamentally and medicinally, but today they are primarily grown for their aesthetic appeal. The seeds offered are heirloom, open-pollinated, and non-GMO, preserving the natural characteristics and qualities that have made Baby Snapdragons a garden favorite for years.
Uses: This delightful flower serves multiple purposes in a garden setting. Beyond its ornamental value, Baby Snapdragons attract butterflies, hummingbirds, and bees, making them an excellent choice for pollinator gardens. Their drought-tolerant and deer-resistant nature also makes them a practical addition to a variety of landscapes. These versatile blooms are ideal for borders, containers, rock gardens, and even meadows. Furthermore, the flowers boast a long vase life, making them excellent cut flowers that can add a burst of color to indoor arrangements.
Growth Habit and Planting Instructions: Growing to a height of up to 10 inches and a spread of up to 12 inches, Baby Snapdragons are relatively low-maintenance plants. To grow these charming blooms, sow the seeds directly into well-drained soil in an area with partial to full sun exposure, ideally after the last frost date for your area. Scatter the seeds lightly over the soil and cover with a thin layer of compost or soil. Keep the soil consistently moist until germination occurs, which is generally within 7 to 14 days. Thin the seedlings to a spacing of 6 to 8 inches once they develop their second set of true leaves. Water regularly and feed with a balanced organic fertilizer every 4 weeks to support their growth. To encourage branching and prolong the blooming period, pinch back the tips of the stems and deadhead spent blooms as needed.