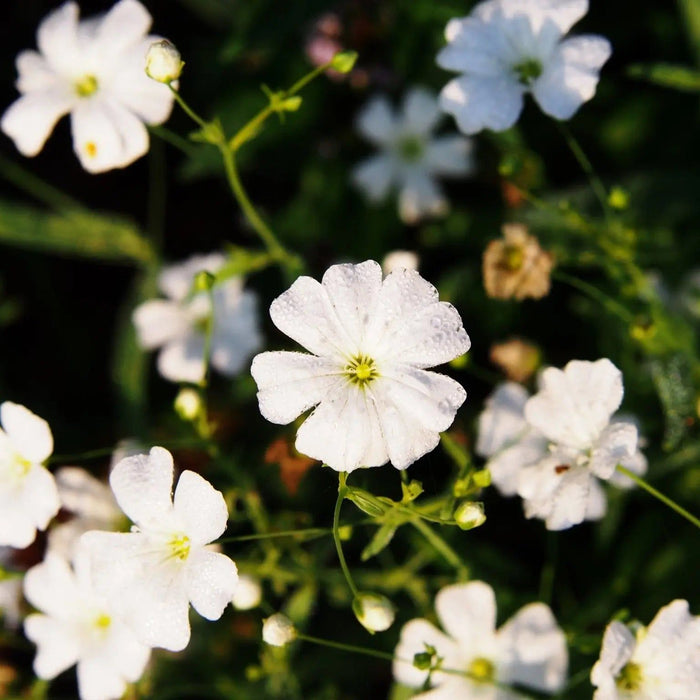 Gypsophila Seeds - Covent Garden
Original price
$2.00
-
Original price
$2.00
Seed Count: 500 seeds
Maturity Date: 50-60 days from germination
Plant Type: Annual
Origin: Native to Europe and Asia
Height: Up to 6 inches tall
Spread: Up to 12 inches wide
Light Requirement: Full sun to partial shade
Soil Preference: Well-drained soil
History: Baby's Breath Covent Garden is a charming variety of Gypsophila, a genus native to Europe and Asia. Over the years, it has become synonymous with elegance in flower arrangements and is particularly popular in wedding bouquets. This variety, known for its clusters of tiny white flowers, has been cherished for generations. Covent Garden seeds are heirloom, open-pollinated, and non-GMO, preserving the timeless grace of the Baby's Breath flower. Traditionally, these flowers have been symbolic of everlasting love and innocence.
Uses: Baby's Breath Covent Garden is renowned for its multi-purpose utility both in gardens and floral crafts. As a garden plant, it attracts a host of pollinators, including bees and butterflies, thus aiding in the biodiversity of your outdoor space. The blooms are frequently used as cut flowers, adding an ethereal touch to bouquets and arrangements. They have a notably long vase life and also dry well, offering an enduring component for wreaths, crafts, and dried flower arrangements. The subtle fragrance emitted from the clusters amplifies their allure, making them a frequent choice in floral perfumery.
Growth Habit & Planting Instructions: Growing Baby's Breath Covent Garden from seed is relatively straightforward. These plants are drought-tolerant and frost-hardy, making them an easy addition to most gardens. To plant, sow the seeds directly outdoors after the last frost has passed. Lightly scatter the seeds over the soil and cover with a thin layer of soil or compost. Maintain consistent soil moisture until germination, which generally occurs within 7 to 14 days. Once seedlings develop two sets of true leaves, thin them to a distance of 8 to 10 inches apart. For optimal growth, water regularly and apply a balanced organic fertilizer every four weeks. To maximize flower production, pinch back stem tips and remove spent blooms. Given the right conditions, these plants will bloom from late spring to early fall, providing a long season of delicate beauty.