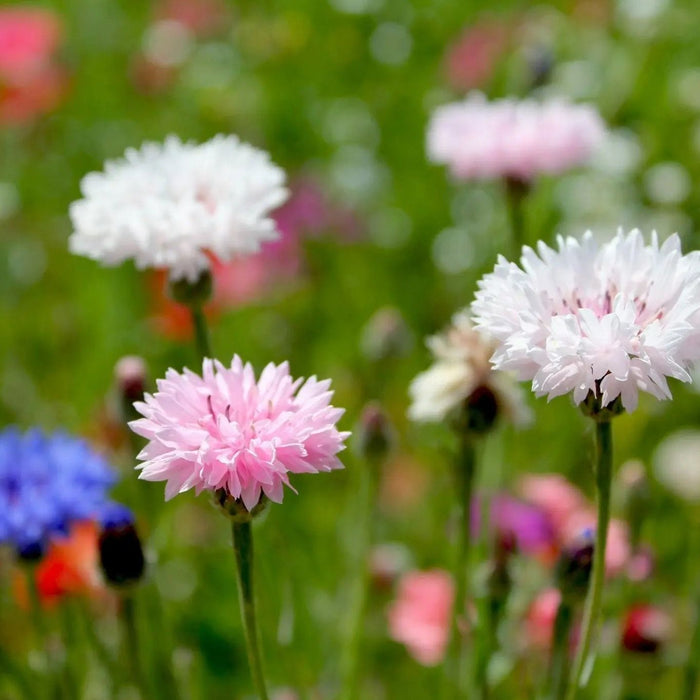 Bachelor's Button - Mixed Seeds
Original price
$2.00
-
Original price
$2.00
200 Seeds
Heirloom, open-pollinated, and non-GMO seeds
Drought-tolerant and frost-hardy plants
Grows 28-36 inches tall, spreads up to 12 inches wide
Full sun and well-drained soil preferred
Long flowering season; excellent as cut flowers
Fresh or dried, they're perfect for crafts
Edible: Mild, sweet flavor with a crunchy texture
Origin & History:
The Bachelor's Button, often referred to as the cornflower or centaurea, is an age-old flower with roots in European landscapes. Traditionally loved for its vibrant hues ranging from blue to white, it has been an iconic presence in many gardens for centuries.
Uses:
Apart from its visual allure, the Bachelor's Button serves diverse purposes. Its flowers, with their mild and sweet flavors, can be a colorful and crunchy addition to salads. Their extended vase life makes them a favored choice for bouquets. Furthermore, the dried version of these flowers retains its color and form, making it a popular pick for various crafts and decoration projects.
Growing Habits & Planting Instructions:
Directly sow the seeds in your garden after the last frost. Scatter them lightly and cover with a thin layer of soil or compost. Germination typically occurs in 7 to 14 days. When seedlings develop two sets of true leaves, thin them to 8-10 inches apart. They require regular watering and monthly feeding with a balanced organic fertilizer. Encourage more blooms by pinching stem tips and removing spent flowers.
Plant these seeds and relish the charming display of the Bachelor's Button in your garden year after year.
Was this response better or worse