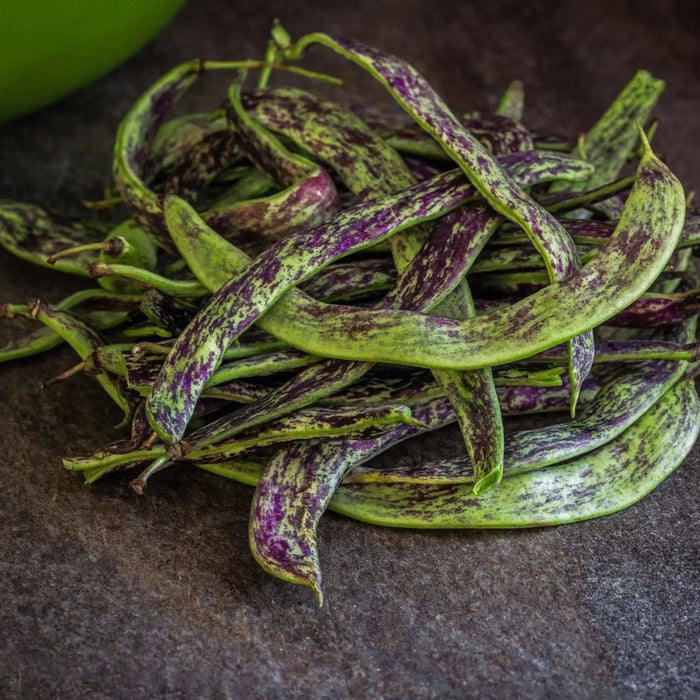 Bean Seeds - Dragon's Tongue
Original price
$2.00
-
Original price
$2.00
Seed Count: 25 Seeds
Maturity: 50-60 Days from Planting/Transplanting
Flavor Profile: Delicious
Growth Habit: Bush Bean
Productivity: Highly Productive Yield
History: Over two and a half centuries old
Appearance: Purple-streaked yellow pods, 7 inches long
Planting Instructions: Sow 1 inch deep, 2-3 inches apart in rows 2 feet apart
History: The Dragon's Tongue Bush Bean has a storied history, stretching over more than two centuries. This heirloom variety has been a staple in the culinary world, prized by gourmet chefs for its unique taste and striking visual appeal. It has stood the test of time as a favorite in gardens and kitchens alike, embodying a tradition of culinary excellence.
Uses: Renowned for its stunning appearance and superb taste, the Dragon's Tongue Bush Bean is a favorite among culinary experts. The pods, reaching up to 7 inches in length, are visually striking with a purple-streaked yellow color and golden-speckled skin. This bean is versatile in the kitchen, ideal for sautéing, steaming, or adding a gourmet touch to salads. Its unique appearance and rich flavor make it a standout ingredient in any dish.
Growing Habits & Planting Instructions: Growing Dragon's Tongue Bush Beans is rewarding and straightforward. As a bush bean, it has a compact growth habit and does not require trellising. For planting, sow the seeds about 1 inch deep in well-drained soil, spacing them 2-3 inches apart, with rows about 2 feet apart. This variety thrives in ample sunlight and needs regular watering. It is known for its impressive productivity, with a single plant capable of producing up to 8 cups of beans. This high yield, coupled with its delightful flavor and appearance, makes the Dragon's Tongue Bush Bean a valuable addition to any garden.