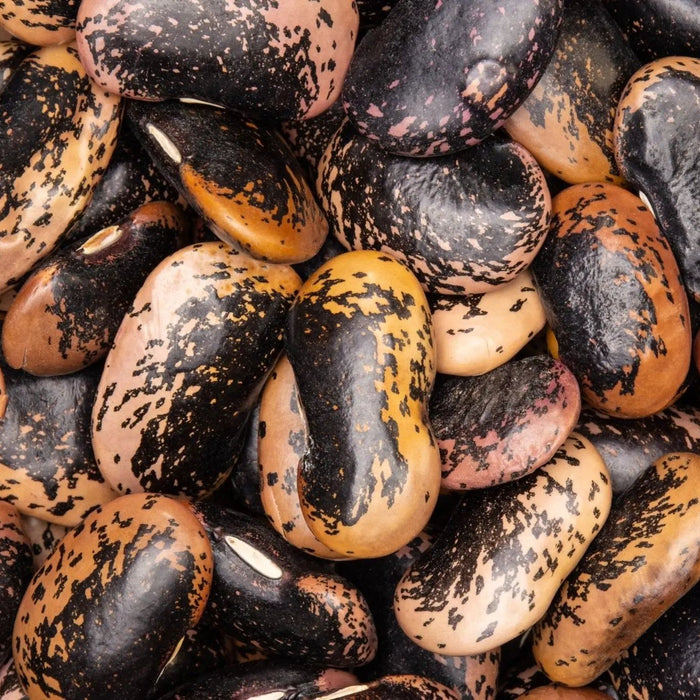 Bean Seeds - Runner - Painted Lady
Original price
$2.00
-
Original price
$2.00
10 Seed Packet
68 Days to Maturity
Pole Runner Bean Growth Habit
Bi-colored Pink and White Blossoms
Beans are Black, Speckled with Tan Edges
Heat Tolerant
Attracts Hummingbirds
Heirloom, Open-pollinated, Non-GMO, and Ethically Sourced
History:
The Painted Lady Runner Bean boasts an impressive lineage, carrying with it tales of gardening traditions spanning generations. As a revered heirloom variety, it has been passed down through the ages, with its bi-colored blossoms and uniquely speckled beans capturing the admiration of gardeners and cooks alike.
Uses:
Beyond the visual beauty of its beans and blossoms, the Painted Lady Runner Bean offers a rich culinary experience. The beans, black with tan edges, are a treasure trove of nutrients, packed with protein, fiber, and antioxidants. They seamlessly integrate into a variety of dishes, making them a versatile addition to soups, salads, casseroles, and more.
Growing Habits:
The Painted Lady is a pole runner bean, naturally inclined to climb. Its vines exhibit a dynamic growth pattern, eagerly stretching upwards, given the right support. Its resilience shines through its heat tolerance, making it a preferred choice for gardeners facing warmer climates.
Planting Instructions:
For optimal growth, it's advised to plant these beans with a trellis or similar support structure, allowing them to climb and flourish. Sow the seeds about an inch deep, ensuring a spacing of 2-3 inches between them. They prefer well-drained soil and benefit from regular watering, especially during dry spells. Given their heat tolerance, they don't shy away from sunny spots in the garden, though they're flexible enough to grow in partial sunlight as well.
Summary:
From its rich history to its versatile uses and robust growing habits, the Painted Lady Runner Bean is a bean variety that promises a holistic gardening and culinary experience. Source your seeds from the Alliance of Native Seedkeepers and immerse yourself in the legacy and flavor of this unique bean.