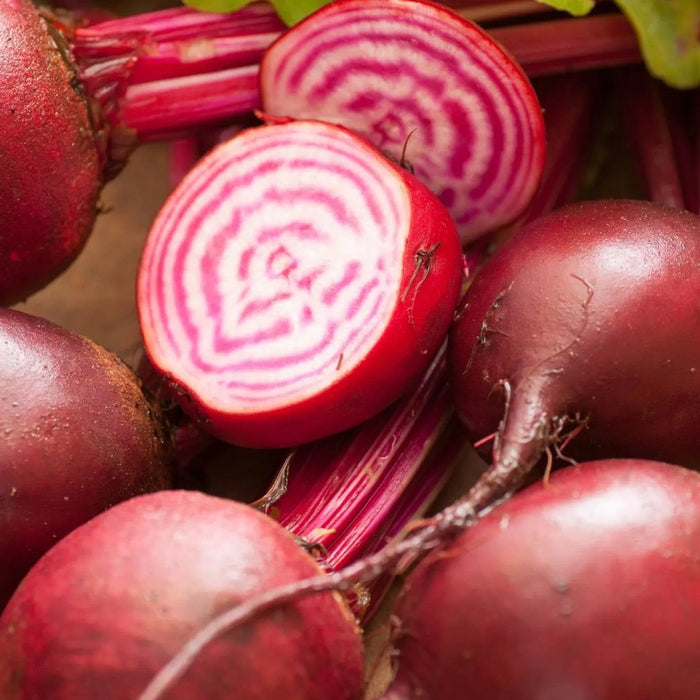 Beet Seeds - Chioggia Seeds
Original price
$2.00
-
Original price
$2.00
100 Seed Packet
Maturity: 55-60 Days
Heirloom, Open-Pollinated, and Non-GMO
Certified Organic and Ethically Sourced
Adaptable Growing Conditions
High-Yielding and Prolific Harvests
Diverse Culinary, Medicinal, and Aesthetic Uses
Vibrant and Unique Coloring
History:
Hailing from the quaint fishing town of Chioggia, near Venice, Italy, the Chioggia beet carries with it a rich European heritage. After being introduced in France by 1840, it quickly became a cherished garden staple, gracing farmers' markets and dinner plates alike.
Taste and Culinary Versatility:
Beyond its visually striking appearance, the Chioggia beet offers a flavor that is both robust and refined. The candy-striped rings of red and white inside present not only a visual delight but also a tantalizing taste treat. The beet's sweet, mild profile pairs perfectly with a range of dishes, from fresh salads to pickled specialties. Nutritionally, it's a powerhouse, brimming with antioxidants, vitamins, and minerals.
Growing Habits:
Chioggia beets are wonderfully versatile, thriving in various environments. Suitable for spacious garden beds, humble pots, or even containers, this beet's adaptability is commendable. It stands resilient against differing light conditions, showcasing its hardy nature.
Planting Instructions:
For best results, plant these seeds about half an inch deep, ensuring a spacing of approximately 2 inches between each seed. They adapt well to a range of light conditions, be it direct sunlight or partial shade. Regular watering promotes the growth of juicy, tender beets. As they mature, thinning the plants will allow the stronger ones to flourish.
Summary:
The Chioggia beet is more than just a vegetable; it's a harmonious blend of history, health, and culinary wonder. By choosing the Chioggia beet, you're embarking on a rewarding gardening journey filled with vibrant color, invigorating taste, and rich heritage. Begin your journey today with seeds from the Alliance of Native Seedkeepers.