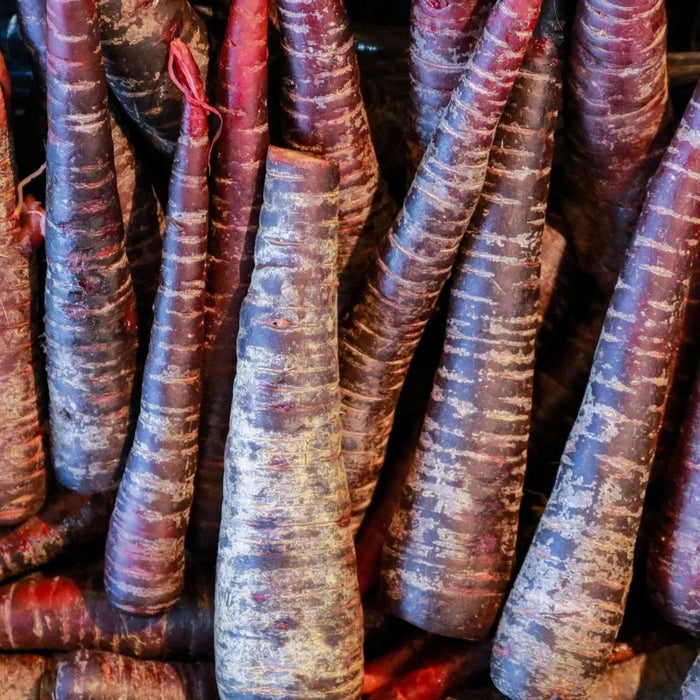 Carrot Seeds - Purple Carrot
Original price
$2.00
-
Original price
$2.00
300 Seeds
65-70 Days 
Type: Long Carrot
Plant Height: 18-24 inches
External hue: Deep purple
Internal flesh: Bright orange
Sweet and tender flavor
History: Purple carrots, with their vibrant hue, trace their origins back to Afghanistan and northern Iran, flourishing by the 10th century. Besides their culinary value, they historically played a role in the fashion industry; the dye extracted from these carrots adorned the garments of Afghan nobility. By the 14th century, Europe began to embrace this colorful root, incorporating it into its diverse culinary landscape.
Uses: The deep purple skin of this carrot variety hides a surprise: a bright orange core, creating a visual feast when sliced. With a length reaching up to 7 inches, they are not only visually appealing but also pack a sweet, tender flavor. Additionally, their rich hue can be utilized as a natural dye, reflecting their historic usage.
Growing Habits & Planting Instructions: To cultivate these carrots, sow the seeds about 1/4 inch deep in well-draining, sandy soil. It's essential to ensure the ground is free of stones and significant clumps to allow the roots to grow straight. Space them about 2-3 inches apart in rows set about 12 inches from each other. Thriving in full sun, they are best suited for zones 3-9. Regular watering, without letting the soil become waterlogged, promotes optimal growth and helps in developing its sweet flavor.