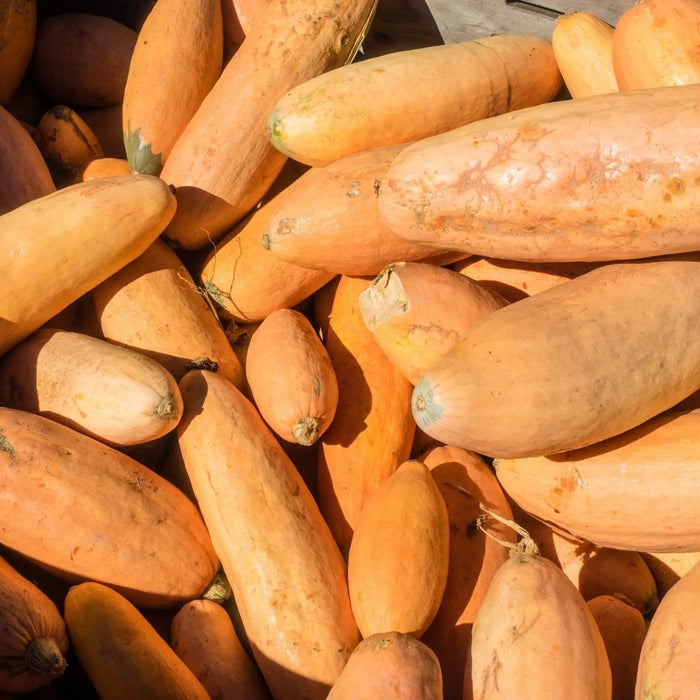 Squash Seeds - Cherokee Candy Roaster
Original price
$2.00
-
Original price
$2.00
10 Seeds
Maturity: 90-100 Days from Planting/Transplanting
Winter Squash with Nutty & Sweet Flavor Profile
Deep Orange Flesh with Smooth, Elongated Exterior
Weighs Between 10-15 Pounds When Mature
High Sugar Content: Ideal for Baking and Pies Stores Well, Extending its Edible Lifespan
Traditionally Cultivated by the Cherokee Nation
History: Deeply rooted in the traditions of the Cherokee Nation, the Cherokee Candy Roaster squash stands as a testament to indigenous agricultural practices. This heirloom variety has been nurtured for generations within the Cherokee community, especially in the regions of North Carolina, Tennessee, and northern Georgia. Its rich cultural significance is as notable as its culinary attributes, making it a revered squash in both historical and modern contexts.
Uses: A standout in the realm of winter squashes, the Cherokee Candy Roaster boasts an impressive sweetness, amplified by its naturally nutty undertones. Given its elevated sugar content, it's exceptionally well-suited for desserts, especially pies. However, it's also versatile enough for roasting, baking, or mashing. Its rich flavor often diminishes the need for extra sweeteners, making it a healthier choice for natural flavor.
Growing Habits & Planting Instructions: Cultivating the Cherokee Candy Roaster demands attention to its specific growth patterns. As a vine-type squash, it's essential to ensure it has abundant space to sprawl and grow. Begin by planting seeds about an inch deep, organizing them in mounds that are spaced 4-6 feet apart. This squash thrives in well-drained soil, under the generous warmth of full sun. Regular watering aids in maintaining its health, promoting optimal growth. As harvest approaches, expect elongated squashes with a smooth exterior, bearing the signature deep orange flesh inside, a hint of the delicious meals to come.