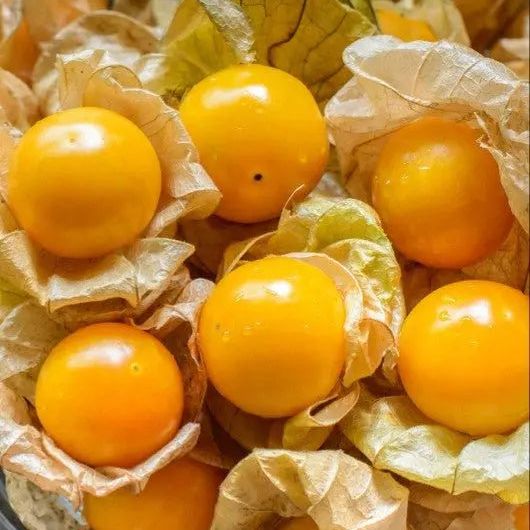 Tomatillo Seeds - Cherokee Dr. Wyches Yellow
Sold out
Original price
$2.00
-
Original price
$2.00
Seed Count: 30 Seeds
Maturity Date: 70-80 Days from Planting/Transplanting
Plant Structure: Bushy Shrub
Fruit Characteristics: Vibrant Yellow, Slightly Sweeter Than Green Tomatillos
Origin: Blend of Cherokee Tradition and Gardens of Dr. Wyche
Growing Conditions: Full Sun, Well-Drained Soil
Spacing: 18-24 Inches Apart in Rows 30-36 Inches Apart
Uses: Versatile in Culinary Preparations, Especially in Mexican Cuisine
History:
The Cherokee Dr. Wyches Yellow Tomatillo is a delightful variation of the classic tomatillo, with its origins deeply rooted in the Cherokee tradition and the personal gardens of Dr. Wyche. The beautiful yellow hue and its subtly sweeter taste set it apart from the common green tomatillo, making it a sought-after variety among gardening enthusiasts and chefs alike.
Uses:
A delicious blend of sweet and tangy, the Cherokee Dr. Wyches Yellow Tomatillo is perfect for crafting a vibrant salsa verde, adding depth to stews, or as a bright addition to any traditional Mexican dish. Whether you're making enchiladas, tacos, or a comforting soup, this tomatillo's unique color and flavor profile will elevate your dish to new culinary heights.
Growing Habits & Planting Instructions:
Start your journey with the Cherokee Dr. Wyches Yellow Tomatillo by sowing seeds indoors about 6-8 weeks prior to the last expected frost. If you prefer direct sowing, wait until the soil warms up sufficiently. Upon transplanting or when thinning out direct-sown plants, ensure a spacing of 18-24 inches between plants, with rows set 30-36 inches apart. Select a location that gets ample sunlight and has well-draining soil. Regular watering and occasional fertilization will ensure a bountiful and healthy harvest. As the tomatillos develop their characteristic yellow hue, you'll know it's time to harvest and enjoy.