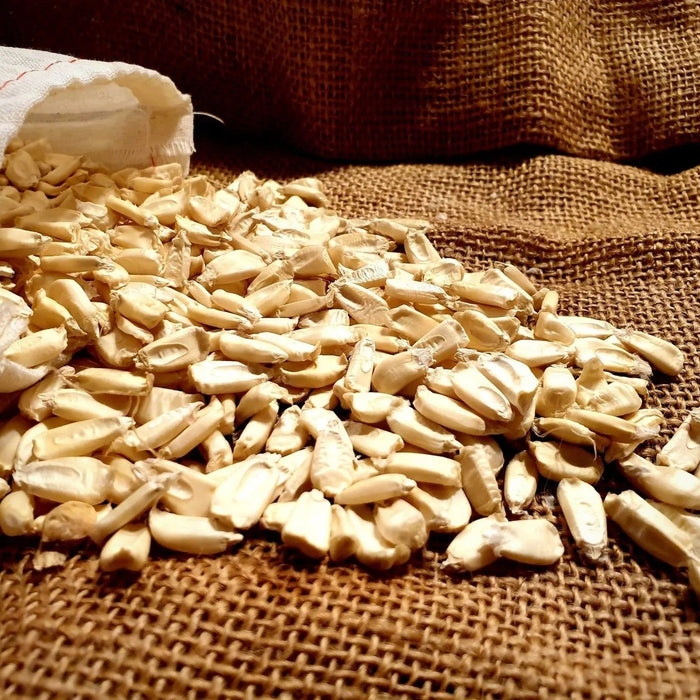 Corn Seeds - Cherokee Tooth Corn
Sold out
Original price
$2.00
-
Original price
$2.00
Seed Count: 90 Seeds
Maturity: 110-120 Days from Planting/Transplanting
Plant Height: Tall Stalk
Kernel Shape: Unique "tooth" or gourd seed shape
Origin: Cultivated by the Cherokee people for generations
History:
Cherokee Tooth Corn, or more commonly known as Cherokee Gourdseed Corn, embodies a rich history and tradition. This unique variety has been an integral part of the Cherokee culture for countless generations. The name arises from the distinctive shape of the kernels, which bear a striking resemblance to gourd seeds. Throughout time, this corn has not only served as a food source but also played a pivotal role in preserving the agricultural and cultural legacy of the Cherokee people.
Uses:
The standout feature of the Cherokee Tooth Corn is undoubtedly its kernels, which are celebrated for their deep, nutty flavor. This characteristic flavor profile makes the kernels an excellent choice for grinding into cornmeal or flour. Historically, the Cherokee have integrated this corn into a myriad of traditional dishes, with its flour especially being hailed for producing cornbread of unparalleled quality. Beyond just gastronomic delights, the significance of this corn stretches to encompass ceremonial and cultural dimensions within the Cherokee community.
Growing Habits & Planting Instructions:
For optimal growth, it's recommended to plant the seeds of the Cherokee Tooth Corn an inch deep, ensuring a spacing of 8-12 inches between seeds, and maintaining row distances of 24-36 inches. Sunlight plays a pivotal role in the growth of this corn, so a sunny spot is ideal. The soil bed should be well-draining and nutrient-rich to foster healthy growth. Consistent hydration is key, especially during the critical pollination phase. For better pollination results, planting in block patterns rather than singular rows can prove advantageous.