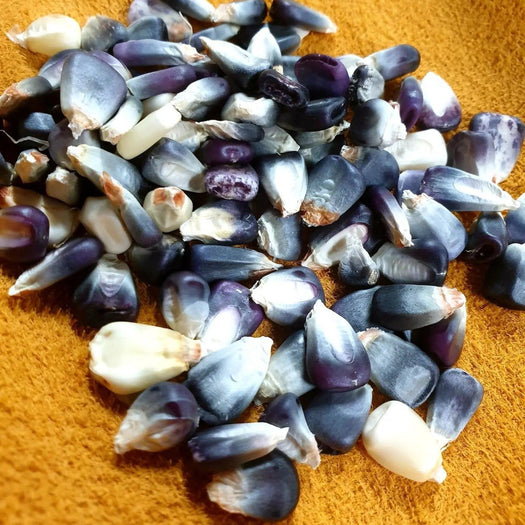 Corn Seeds - Cherokee White Eagle
Sold out
Original price
$2.00
-
Original price
$2.00
Seed Count: 90 Seeds
Maturity: 110-120 Days from Planting/Transplanting
Plant Height: Tall Stalk
Kernel Color: Blend of white and dark-colored kernels
Origin: Native American Heirloom, Cherokee tradition
History:
The Cherokee White Eagle Corn stands as a remarkable testament to the rich heritage and traditions of the Cherokee Nation. This corn variety, bearing kernels of both light and dark hues, is more than just an agricultural product; it's a symbol. Within each kernel, the contrasting colors represent the age-old balance between peace and adversity, a tangible reminder of the challenges faced and the tranquility sought by the Cherokee people.
Uses:
Beyond its symbolic significance, the Cherokee White Eagle Corn finds practical use in the culinary world. Its kernels, when ground, produce a cornmeal of unparalleled flavor and a unique, speckled coloration. This cornmeal finds its way into a host of traditional Native American dishes, further emphasizing the corn's integral role in Cherokee culture. Additionally, given its deep-rooted cultural relevance, this variety is often showcased in traditional ceremonies.
Growing Habits & Planting Instructions:
Cultivating the Cherokee White Eagle Corn requires attention to detail. For starters, seeds should be planted about an inch deep in the soil, ensuring a gap of 8-12 inches between individual seeds. Rows, meanwhile, should be spaced about 24-36 inches apart. As with most corn varieties, this one too thrives in sunlit patches, making a sunny spot in the garden ideal. The soil should be rich and well-draining, providing the right environment for growth. Regular watering, combined with timely pest management, will go a long way in ensuring a successful harvest of this historic corn variety.