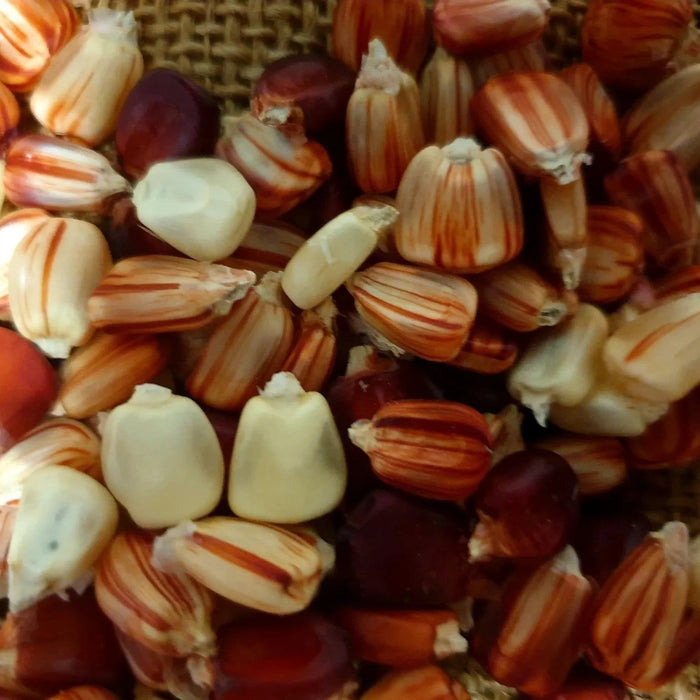 Corn Seeds - Hop McConnell Speckled
Sold out
Original price
$2.00
-
Original price
$2.00
Seed Count: 80 Seeds
Maturity Date: 100 Days from Planting/Transplanting
Type: Large Dent Corn, Red and White, with Possibility of Speckles
Potential Height: Grows up to 12 feet tall
Named After Mr. Wade Hopkins McConnell of Scott County, VA
History:
The Wade Hopkins McConnell Dent Corn stands as a testament to the legacy of Mr. Wade Hopkins McConnell from Scott County, VA. A revered figure in his community, Mr. Hop McConnell was more than just a name behind this corn. He was a kind-hearted individual known to distribute this beautiful dent corn variety to local farmers through his general store. Such gestures solidified his reputation as a generous soul and ensured that his name lived on, not just in stories but also as a cherished corn variety.
Characteristics & Uses:
Distinct in its appearance, the ears of this corn variety can display various patterns: they might be all-white, all-red, or a blend of the two colors, sometimes with unique speckles. Such a mix ensures that each harvest is a delightful surprise, making it a favorite among farmers and gardeners.
Though primarily a dent corn, its striking colors also make it an excellent choice for ornamental purposes. Whether used in harvest festivals or as part of decorative arrangements, the Wade Hopkins McConnell Dent Corn adds a splash of color and history.
Growing Habits & Planting Instructions:
For a bountiful harvest, it's recommended to sow the seeds 1 inch deep, with an 8-12 inch spacing between them, in rows that are 24-36 inches apart. This corn thrives under full sunlight and prefers well-drained, fertile soil. Regular watering and attention to its growth will ensure tall, healthy stalks and ears filled with vibrant kernels.