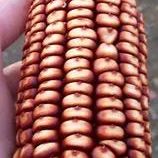 Corn Seeds - New York Red Robin
Save

50

%
Save

50

%
Original price
$4.00
-
Original price
$4.00
Seed Count: 90 Seeds
Maturity: 95-110 Days from Planting/Transplanting
Plant Height: Medium to Tall Stalk
Origin: Eastern States
Kernel Color: Vibrant Red
History:
New York Red Robin Corn evokes the rich agricultural tapestry of the Eastern states. Known for its strikingly vibrant red kernels, this variety stands out distinctly from the more conventional shades of yellow and white corn. Its origin, nestled in the historic expanses of New York and the surrounding regions, is a testament to the rich diversity of crops cultivated in these areas.
Uses:
Apart from its undeniable visual appeal in gardens, New York Red Robin Corn holds culinary significance. Its kernels, when ground, yield a flour that carries a distinct hue and flavor. This flour adds a touch of vibrancy and a unique taste profile to traditional corn recipes, offering a delightful blend of aesthetics and flavor.
Growing Habits & Planting Instructions:
To cultivate New York Red Robin Corn, plant seeds at a depth of 1 inch, maintaining a spacing of 8-12 inches between seeds, and rows spaced 24-36 inches apart. This variety flourishes under the full embrace of the sun and prefers a well-drained, nutrient-rich soil. Regular and consistent watering is paramount, especially during key growth stages, such as tasseling and kernel development. Proper care ensures a vibrant harvest that captures the essence of the Eastern states' agricultural heritage.