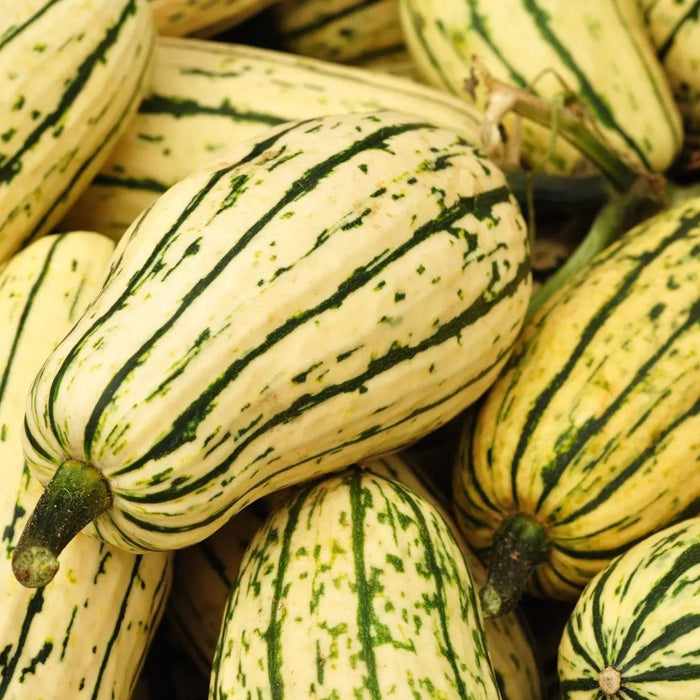 Squash Seeds - Delicata
Original price
$2.00
-
Original price
$2.00
15 Seeds
Maturity: 80-100 Days from Planting/Transplanting
Bush-Type Squash Variety
Light Yellow Skin with Green Stripes
Small to Medium Size, Ideal for Single Servings
Edible Skin, Reducing Prep Time
Requires Little to No Seasoning Due to Its Natural Sweetness
High in Vitamins, Fiber, and Essential Minerals
History: Introduced to the culinary world in the early 1900s, the Delicata Squash swiftly carved out a space for itself due to its distinctively sweet and creamy texture. Often referred to as the "sweet potato squash," its attributes were widely celebrated. Yet, despite its initial popularity, the Delicata had to rediscover its audience in more recent years, when chefs and home cooks alike began to value its simplicity and unique flavor.
Uses: The inherent sweetness of the Delicata Squash sets it apart. Its skin, unlike many other squash varieties, is tender enough to eat, which simplifies the cooking process and reduces waste. The squash's interior mirrors its outer simplicity: a rich, creamy flesh that is delightful when roasted, but equally captivating when sautéed, steamed, or even stuffed. Its natural flavors shine with minimal seasoning, making it a staple in many health-conscious diets.
Growing Habits & Planting Instructions: Delicata Squashes are known for their bushy growth habit, which is more compact compared to vining types, thus suitable for gardens with limited space. To cultivate, plant seeds about an inch deep in the soil, adhering to a spacing of about 3 feet between each. Rows should be kept approximately 6-8 feet apart to allow for healthy growth. A sunny spot is optimal for these plants, ensuring they receive ample sunlight. Regular watering, especially during the fruit's developmental phase, will ensure a healthy yield. With the right care, in 80-100 days, you'll be greeted with the light-yellow, green-striped Delicata Squashes, ready to enhance your culinary endeavors.