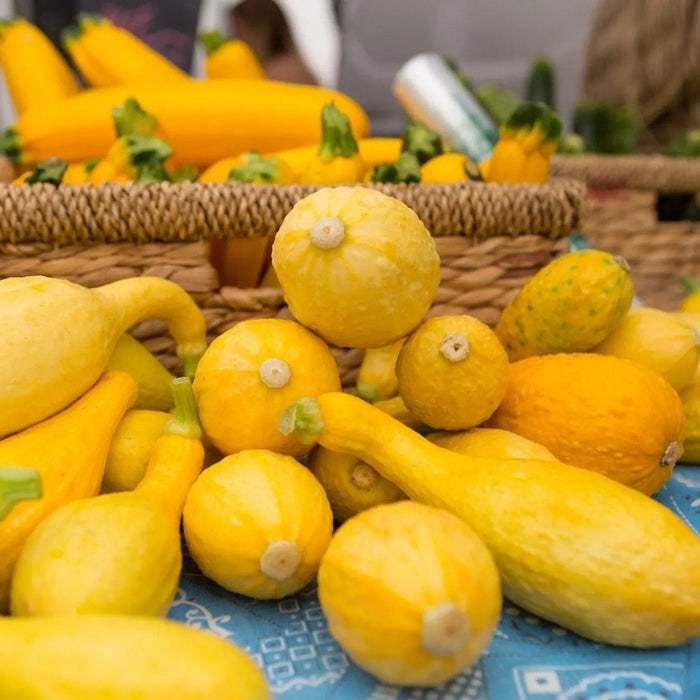 Squash Seeds - Early Summer Crookneck
Original price
$2.00
-
Original price
$2.00
35 Seeds
53 Days Early and prolific provider
Summer squash variety
Fruit grows up to 8 inches in length
Distinct yellow, bumpy skin
Plant grows to a height of 24 inches and a width of 2 feet
Buttery creamy-yellow flesh
History: The Early Summer Crookneck, botanically termed as Curcubita pepo, boasts a rich heritage in American gardens. Cherished for its early yielding capability and unique appearance, it has been a favorite since colonial times. Its characteristic crooked neck, combined with its textured yellow skin, set it apart from more contemporary squash varieties, making it a symbol of traditional home gardening.
Uses: One of the most versatile in the squash family, the Early Summer Crookneck is best known for its tender, buttery, creamy-yellow flesh. Most delicious when harvested young, this variety adds richness to various dishes. It can be sautéed, grilled, or even consumed raw in salads. The subtle flavor and creamy texture make it an essential in many summer recipes.
Growing Habits & Planting Instructions: To cultivate the Early Summer Crookneck, seeds should be sown directly into the garden bed about an inch deep. For those in regions with shorter growing seasons, an early start indoors in small pots can give them a head start, ensuring transplantation after the last frost and once the soil warms up. Spacing is essential; therefore, prepared beds should maintain a distance of 18-24 inches between plants. An alternative approach is planting in groups of three, forming hills. For those limited by space, they can be comfortably grown in large planters or even trellised. Anticipate germination between 4 to 9 days post-sowing. With adequate care, these plants stretch up to 24 inches in height and spread across a breadth of 2 feet.