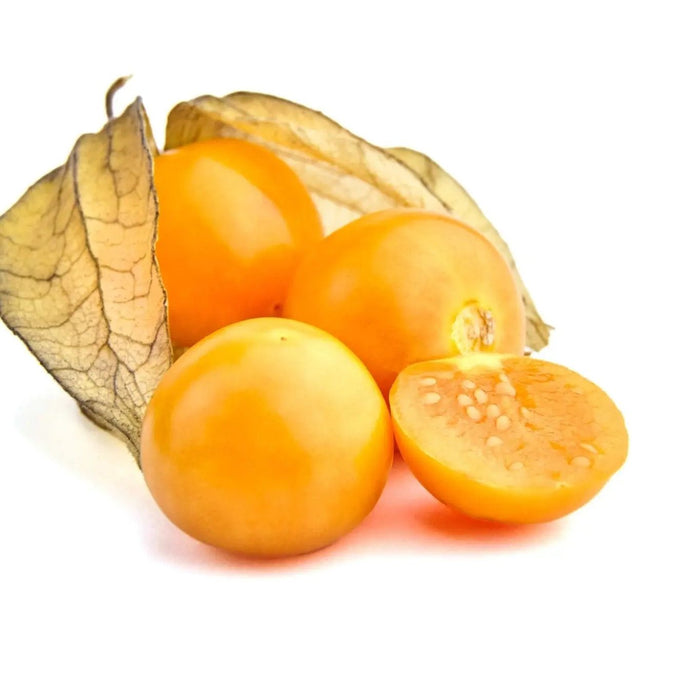 Tomatillo Seeds - Goldie Ground Cherry
Original price
$2.00
-
Original price
$2.00
Seed Count: 50 Seeds
Maturity Date: 75 Days from Planting
Taste Profile: Incredibly Sweet
Unique Feature: Gold-Colored Berries inside Papery Husks
Size: 1/2– 3/4″ Berries
Visual Appeal: Resembles Small, Straw-Colored Japanese Lanterns
Heritage: Old-Fashioned Variety
Garden Aesthetics: Enhances Garden Beauty
History:
Goldie Ground Cherries hold a cherished spot in the annals of gardening, being an old-fashioned variety that has been appreciated by generations. These cherries, with their characteristic straw-colored, lantern-like appearance, are reminiscent of the classic Japanese lanterns, lending them an aura of antiquity and charm.
Uses:
But it's not just the looks; the flavor of Goldie Ground Cherries is their prime asset. Packed with an incredibly sweet taste, they are perfect for snacking, adding to salads, or using in desserts. Each bite into this golden delight promises a burst of sweetness, making them irresistible and ensuring you can't stop at just one.
Growing Habits & Planting Instructions:
Starting your Goldie Ground Cherry plant is simple. Plant the seeds in well-draining soil and ensure they get ample sunlight. As they grow, these plants will become a beautiful addition to your garden, with their unique Japanese lantern-like fruit making them stand out. Harvest them around the 75-day mark from planting, when the cherries are at their sweetest. Care and attention will ensure a bountiful harvest of these golden treasures.