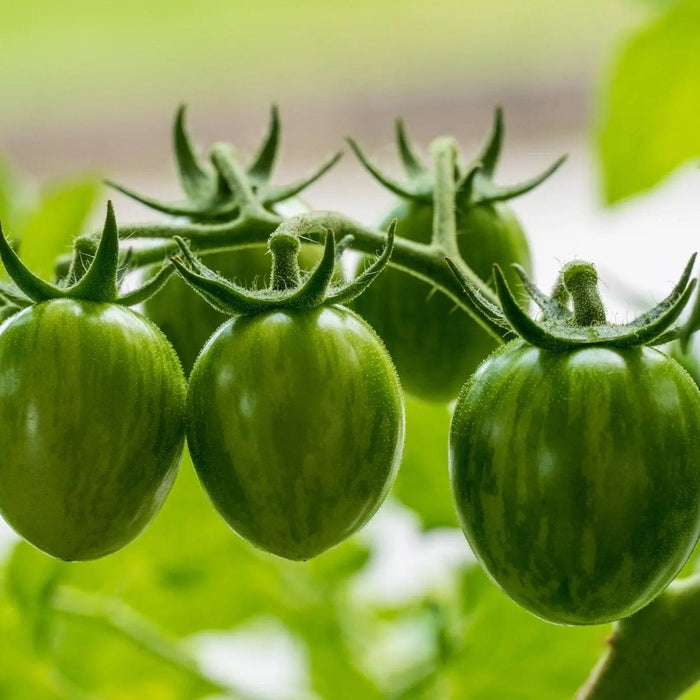 Tomato Seeds - Green Bumble Bee
Sold out
Original price
$2.00
-
Original price
$2.00
25 Seeds
Maturity: 75 Days
Cherry Tomato with Green and Purple Stripes
Sweet and Balanced Flavor
Crack Resistant
Indeterminate Growth Habit
Dense and Meaty Texture
Favorite Among Chefs
History:
The Green Bumble Bee Tomato, with its striking green and purple stripes, is not just another variety in the world of tomatoes; it's a testament to the creativity and dedication of generations of tomato breeders. Developed with an eye towards both aesthetics and flavor, this cherry tomato stands out not just on the plant, but on the plate. Its name is inspired by its vibrant, buzzing color palette that reminds many of the ever-busy bumblebee.
Uses:
The allure of the Green Bumble Bee Tomato goes beyond its distinctive appearance. With a flavor profile that strikes a perfect balance between sweet and savory, it's a prime candidate for salads, snacks, or as a garnish. Its dense, meaty texture and size make it ideal for quick appetizers or even for popping right into your mouth straight off the vine. Chefs, in particular, appreciate its ability to elevate the presentation and taste of their dishes.
Growing Habits & Planting Instructions:
This tomato boasts an indeterminate growth habit, meaning it will continue to produce fruit throughout its growing season. Start the seeds indoors about 6-8 weeks before the last expected frost in your region. Once ready to transplant, place them outdoors spaced 24-36 inches apart in rows 36 inches apart. They relish full sunlight and well-drained soil. Being indeterminate and given the nature of its vigorous growth, it's wise to provide support in the form of stakes or cages, ensuring they thrive and produce to their full potential.