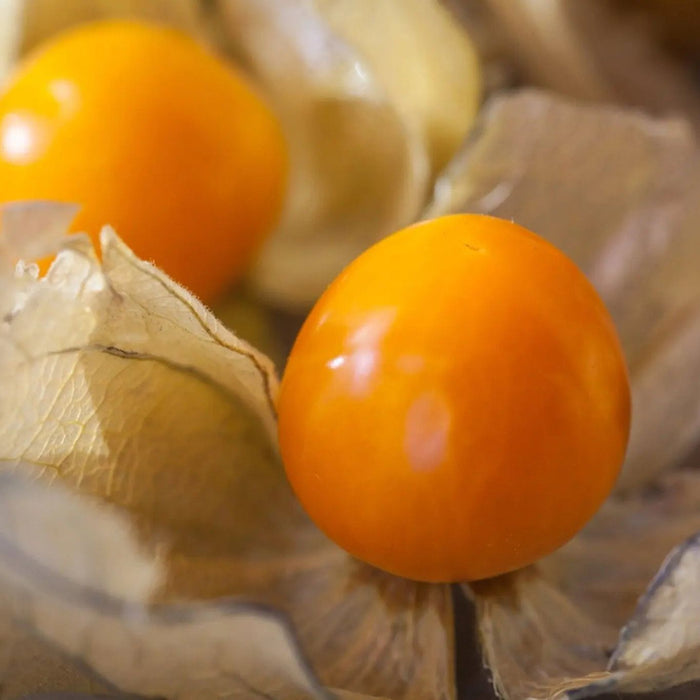 Tomatillo Seeds - Aunt Molly's Ground Cherry
Original price
$2.00
-
Original price
$2.00
Seed Count: 50 Seeds
Maturity Date: 70 Days from Transplanting
Fruit Size: ½ to ¾ inch Fruits
Taste Profile: Prolific & Sweet
Unique Feature: Encased in a Papery Husk
Storage: Excellent Storing Quality
Origin: Named after Aunt Molly, a Beloved Pet Dog
Plant Habit: Sprawling Growth Pattern
History:
Aunt Molly's ground cherry has a heartwarming tale behind its name. Rooted in fond memories, it was named after an ice cream stand which, in turn, was named after a cherished pet dog, Aunt Molly. Aunt Molly was no ordinary pet but a beloved member of the family who belonged to the founders of Territorial Seeds. The name serves as a sweet homage to the joy and warmth Aunt Molly brought into their lives.
Uses:
The charm of Aunt Molly's ground cherries is not just in their unique name but also in their versatile culinary applications. Bursting with a sweet flavor, these cherries make excellent additions to pies, fruit salads, and even ice creams. Their delightful taste is sure to elevate any dessert, making it a hit at family gatherings and parties.
Growing Habits & Planting Instructions:
Cultivating Aunt Molly's ground cherry is a rewarding endeavor. Start by planting the seeds in fertile, well-draining soil, ensuring they receive ample sunlight. As the plants grow, their sprawling habit becomes evident. It's essential to harvest the cherries when the husk turns brown, indicating their ripeness. With proper care, these plants promise a generous yield of delicious ground cherries that can be enjoyed fresh or used in a variety of dishes.