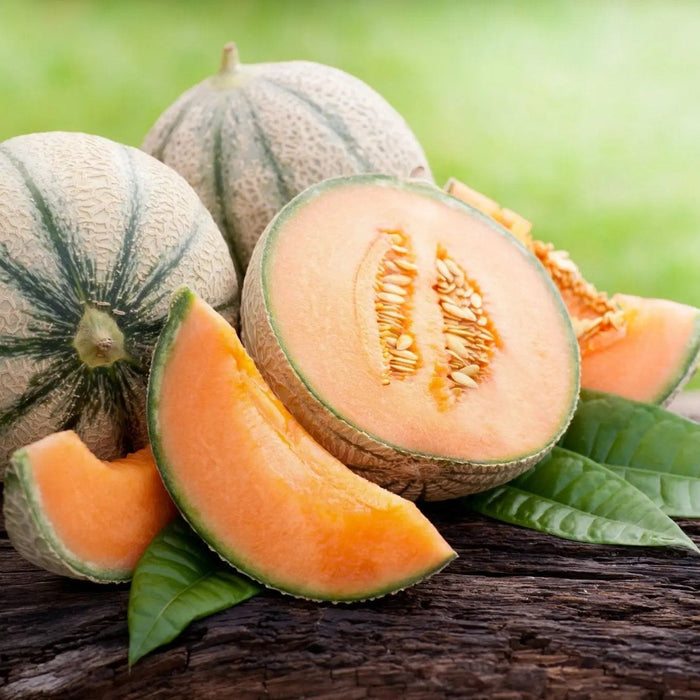 Melon Seeds - Hales Best Jumbo Cantaloupe
Original price
$2.00
-
Original price
$2.00
50 Seeds
Maturity: 80 Days from Planting
Cantaloupe Variety
Fruit Spread: 36-72 Inches
Classic, Sweet Cantaloupe Flavor
Late-Maturing with Extended Firmness
Remains Aromatic and Sweet Throughout Ripening
Perfect for Home Gardens and Commercial Production
History:
Hales Best Jumbo Cantaloupe boasts a storied history, tracing its legacy back to over a century ago. For decades, it has stood as a testament to the evolution of quality cantaloupes, setting a high benchmark in flavor, quality, and size. This particular variety gained rapid fame, eventually becoming a household name and a favored choice among growers and consumers alike.
Uses:
This cantaloupe's reputation is built on its incomparable flavor. Offering a classic sweet taste that's bursting with aromatic richness, Hales Best Jumbo is perfect for a refreshing snack, salads, or as a centerpiece in fruit platters. Its prolonged firmness allows for a flexible window of consumption, making it suitable for various culinary applications, from fresh dishes to delightful melon desserts.
Growing Habits & Planting Instructions:
Planting Hales Best Jumbo Cantaloupe promises both an engaging journey and a rewarding harvest. The melons thrive best in full sunlight and well-draining soil. Seeds should be sown approximately one inch deep, ensuring each plant has adequate space, given its considerable spread. Regular watering and monitoring for ripeness are crucial. The cantaloupe's skin will develop a slightly rough texture and a fragrant aroma, signaling its readiness for harvest.