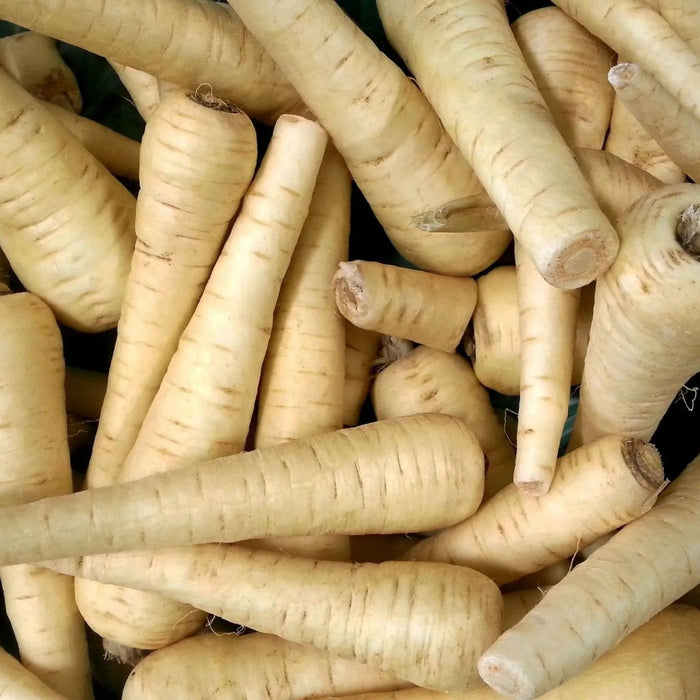 Parsnip Seeds - Harris Model
Original price
$2.00
-
Original price
$2.00
150 Seeds
100 Days to Maturity
Distinct Pure White Appearance
Uniform Straight Roots
Exceptionally Sweet Flavor
Excellent for Storage
Cold-Resilient;
Suitable for Northern Gardens
Preferred Choice for Winter Harvests
History: The Harris Model has a reputable lineage, stemming from a legacy of robust and flavorful root vegetables. Specifically developed for its pure white color and uniform shape, this variety has earned its place among gardeners and farmers for its consistency and remarkable quality. A favorite for those in northern climates, it carries the hardiness and resilience of its predecessors.
Uses: The deliciously sweet flavor of Harris Model makes it a standout choice for a variety of dishes. Whether it's roasted to caramelized perfection, grated into fresh salads, or simply boiled and buttered, its versatility in the kitchen is commendable. Moreover, its unique white color makes it a visually appealing ingredient, elevating the look of any dish.
Growing Habits & Planting Instructions: For optimal growth, sow the seeds directly into the soil in early spring, choosing a location with full sun. Space seeds 2-3 inches apart in rows 12-18 inches apart. Ensure the soil is well-draining but keep it consistently moist, particularly as the roots begin to form. The Harris Model is tolerant of colder climates, making it an excellent choice for northern gardens. While they can withstand some frost, it's essential to harvest shortly after to maintain the sweet flavor and avoid a woody texture. If you're storing them, simply remove the tops and store in a cool, dry place for extended freshness.