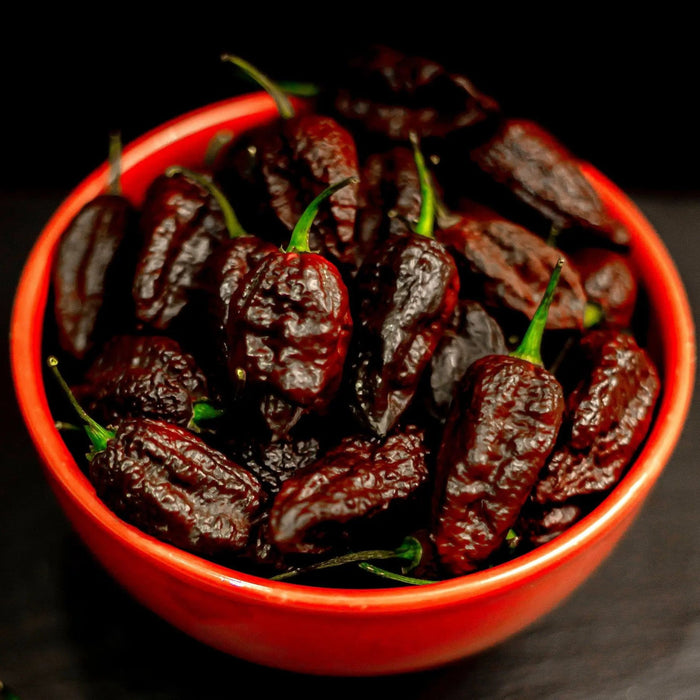 Pepper Seeds - Hot - Chocolate Seven Pot
Sold out
Original price
$2.00
-
Original price
$2.00
10 Seeds per Packet
Maturity: 100-120 Days from Planting/Transplanting
Exotic Chocolate-Hued Variety
Native to Trinidad
One of the Super Hot Seven Pot Varieties
Scorching Heat at 1,400,000 Scoville Units
Rarity Amongst Pepper Enthusiasts
Sought-after by Breeders and Spice Lovers
History: The Chocolate Seven Pot pepper, colloquially known as the Chocolate Douglah, stands as a testament to Trinidad's rich agricultural history. Born from the fertile soils of Trinidad, this pepper has transitioned from being a homegrown favorite to being recognized and revered on the world stage for its unmatched heat and rarity. The association of its darker hue with intensified heat is a unique aspect that has captured the fascination of many.
Uses: While its scorching heat makes it a formidable ingredient, those brave enough to harness its power often use the Chocolate Seven Pot in sauces, salsas, and marinades. A little goes a long way with this pepper, and when used judiciously, it can lend a rich depth of flavor, complemented by its unique chocolate undertones.
Growing Habits & Planting Instructions: Plant Chocolate Seven Pot seeds in a sunny location with well-draining soil, burying them about 1/4 inch deep. Ensure a spacing of 18-24 inches between plants to allow for optimal growth. As a tropical pepper, it thrives in warmer climates, making it essential to protect the young plants from any unexpected cold snaps. With consistent watering and patience, in roughly 100-120 days, you'll be greeted with the sight of the distinctive chocolate-hued peppers, ready to spice up your culinary adventures.