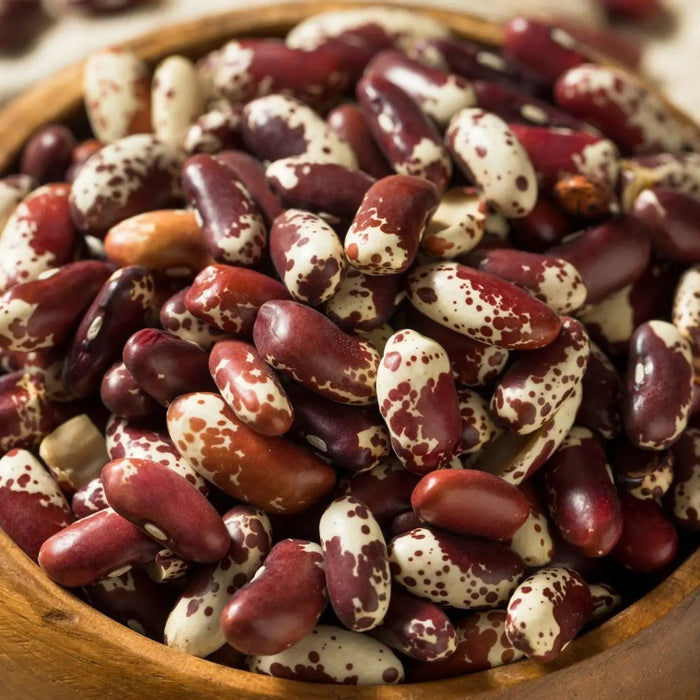 Bean Seeds - Jacob's Cattle
Original price
$2.00
-
Original price
$2.00
25 Seed Packet
90 Days from Planting/Transplanting
Productive Bush Growth Habit
Distinctive White and Maroon Mottled Beans
Full-Bodied Rich Flavor
Historical Roots:
The Jacobs Cattle Bean has roots that trace back to the Passamaquoddy Natives. It is believed that these beans were introduced to Joseph Clark in 1850. The significance of this bean transcends beyond its historical origins, becoming a staple in various culinary traditions over the years.
Culinary Profile & Versatility:
What makes Jacobs Cattle Beans particularly outstanding is their rich flavor and unique appearance. These beans are celebrated for their ability to retain their shape during extended cooking and for their deeply aromatic scent that fills the kitchen. They offer an impressive degree of versatility in the kitchen: harvest at around 50 days for tender green beans, 70 days for shell beans, or let them fully mature to 90 days for richly flavored dry beans. Ideal for soups, stews, or traditional baked bean dishes, they deliver consistently in both taste and texture.
Growing Habits & Planting Instructions:
Growing as a bush, Jacobs Cattle Beans are suitable for various garden setups, be it expansive plots or compact spaces. Planting requires seeds to be sown about 1-1.5 inches deep in soil that offers good drainage. They should be spaced approximately 3 inches apart. Choose a spot that receives ample sunlight and ensure consistent watering. With their prolific nature, a generous harvest awaits, promising beans that are a feast both for the eyes and the palate.
Discover the culinary joys and rich traditions associated with the Jacobs Cattle Beans. They serve as a testament to the rich agricultural practices and shared histories of communities of the past.