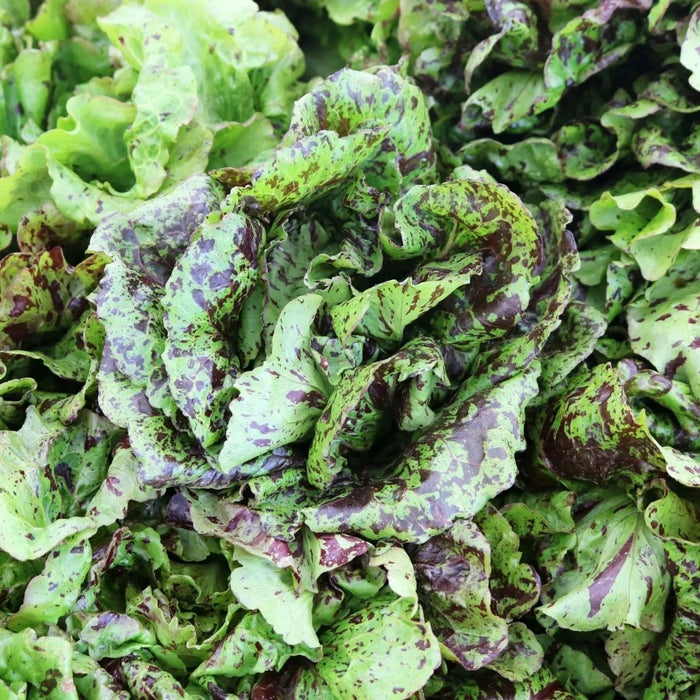 Lettuce Seeds - Speckled
Original price
$2.00
-
Original price
$2.00
1000 Seeds
45-50 Days to Maturity
Green Leaves with Beautiful Red Dots
Mild, Fulfilling Flavor
Looseleaf Type
Historic Mennonite Heirloom
Ideal for Salads and Garnishes
Easy to Grow and Harvest
History:
Tracing back to the rich heritage of the Mennonite communities, the Speckled Lettuce carries with it a profound historical legacy. Mark Reusser, a valued SSE member, introduced this family heirloom to SSE in 1983. Its journey is believed to have started from Pennsylvania, where Urias Martin, a descendent of the Mennonite immigrants, brought it to Ontario. Mark's father later received the seeds, preserving and passing on the tradition. This lettuce not only serves as a flavorful vegetable but also as a tangible piece of history linking generations.
Uses:
The Speckled Lettuce is renowned for its mild yet fulfilling flavor. Its green leaves, artistically dotted with red speckles, provide an aesthetic and flavorful addition to salads. The contrasting colors make it an eye-catching garnish, perfect for elevating the appearance and taste of various dishes. Whether consumed raw or added as a topping, its versatility in culinary applications is unmatched.
Growing Habits & Planting Instructions:
Growing the Speckled Lettuce is a straightforward process, ideal for both beginners and seasoned gardeners. Preferring cooler climates, it's recommended to plant seeds in well-draining soil. Sow the seeds about 1/4 inch deep, spacing them 6-8 inches apart. While it enjoys full sunlight, partial shade can also be tolerated. Regular watering will ensure healthy growth. Within just 45-50 days, gardeners will be greeted with a lush yield of these dotted green leaves. Reconnect with a rich heritage and add a burst of color to your garden with the Speckled Lettuce!