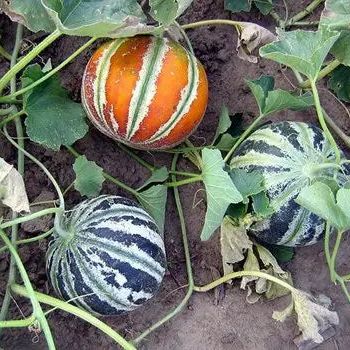 Melon Seeds - Kajari
Sold out
Original price
$2.00
-
Original price
$2.00
25 Seeds
70-85 Days
Golden-orange with light stripes and green mottling
Ripens to a fragrance that's hard to resist
Pale green flesh with a light sweetness
Muskmelon variety
Fruits 1-2 lbs.
Slips from the vine when ripe
History: The Kajari melon, a treasured variety from India, has been enjoyed by the local communities for generations. A symbol of India's rich agricultural tradition, this muskmelon was introduced to the world by the Indian people, showcasing the diversity and depth of their horticultural heritage.
Uses: A feast for both the eyes and palate, the Kajari melon boasts a captivating golden-orange hue, complemented by light stripes and green mottling. But its beauty isn't just skin-deep. Slice it open to reveal pale green flesh that offers a mildly sweet taste with a hint of musk. While it can be enjoyed fresh, it also serves as a delightful addition to fruit salads or refreshing summer drinks.
Growing Habits & Planting Instructions: This melon variety thrives in well-draining soil under full sun. Seeds should be planted about 1 inch deep and spaced about 2 feet apart, with rows set 4 to 6 feet apart. As it matures, the Kajari melon will emit a delightful fragrance, signaling that it's ripe and ready for harvest. An added indicator is when the melon slips easily from the vine. Regular watering, especially during dry spells, will ensure a juicy harvest.
Embark on a flavorful journey with the Kajari melon and savor a slice of India's rich agricultural heritage.