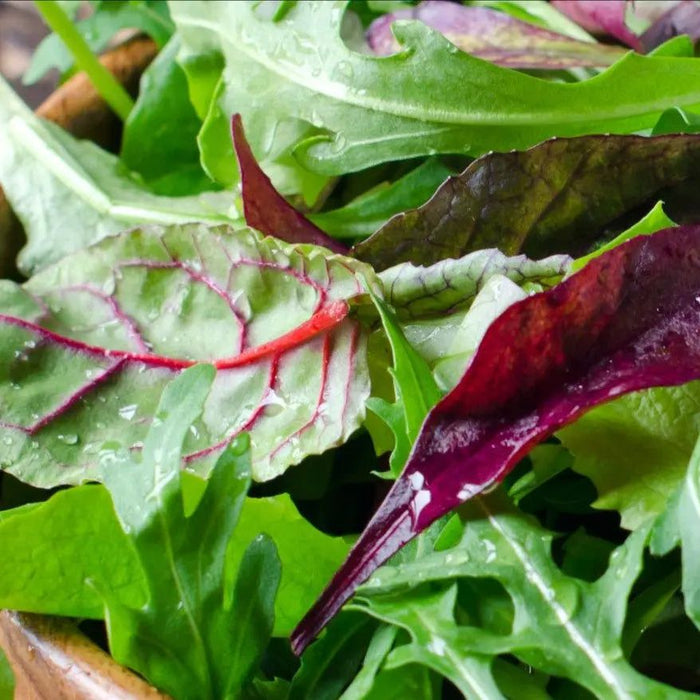 Lettuce Seeds - Mesclun Mix Red & Green
Original price
$0.00
-
Original price
$0.00
300 Seeds
35-75 Days to Maturity
Inclusive Mix: Arugula, Spinach, Swiss Chard, Endive, Kale, Mustards & Lettuces
Plants Grow to Approximately 4-5" Tall
Varied Colors and Textures
Versatile Use in Gardens and Containers
Quick and Easy Harvest
Compact Growth, Ideal for Small Spaces
History:
Mesclun Mix Lettuce is rooted in the culinary traditions of the Mediterranean, specifically in regions of France. The term "Mesclun" derives from the Provençal word 'mescla', meaning to mix. Traditionally, these were wild greens harvested in the spring. Over time, the blend evolved, incorporating diverse greens from different regions, reflecting the tapestry of cultures and flavors of the Mediterranean.
Uses:
Mesclun Mix Lettuce offers an extraordinary blend of tastes and textures, from the peppery bite of arugula to the subtle bitterness of endive, complemented by the hearty notes of kale and mustard. This delightful ensemble is not just for salads. It also shines when lightly sautéed with garlic or incorporated into pasta dishes, wraps, and sandwiches. Its vibrant colors and textures elevate any dish, making it a favorite among chefs and home cooks alike.
Growing Habits & Planting Instructions:
Growing Mesclun Mix Lettuce is a joy, especially for those who appreciate variety in their garden. This blend is well-suited for both ground planting and container gardening, making it a flexible choice for gardeners with limited space. For optimal growth, sow the seeds in a sunny spot in well-draining soil. Scatter the seeds lightly over the soil surface and cover with a thin layer of soil or compost. Keep the soil consistently moist, but avoid overwatering. Given its diverse components, the mix will showcase a beautiful succession of growth and color over the 35-75 day period. As a 'cut-and-come-again' blend, you can harvest leaves when young and tender, and they'll regrow, offering multiple harvests throughout the season. Immerse yourself in a gardening journey with Mesclun Mix Lettuce and enjoy a symphony of flavors and colors.