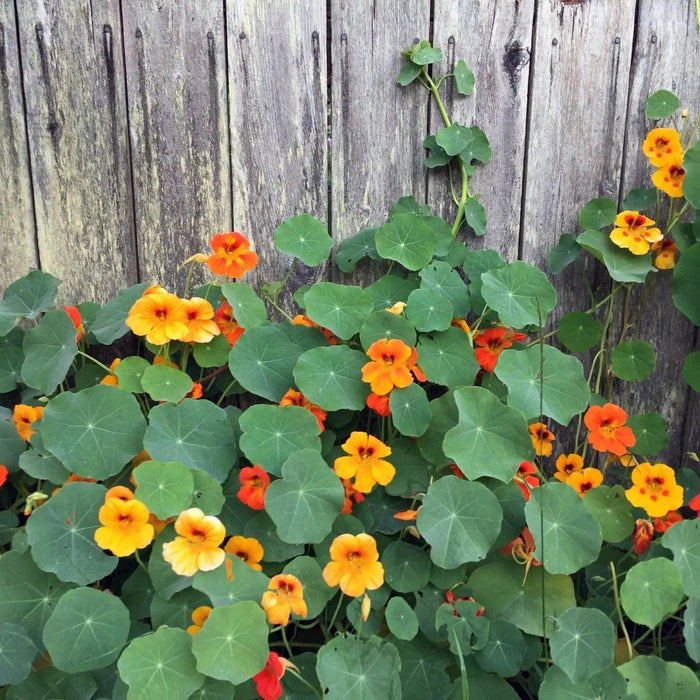 Nasturtium Seeds - Jewel Mixed Colors
Original price
$2.00
-
Original price
$2.00
Seed Count: 40 Seeds.
Flower Type: Beautiful Mix Semi Double.
Color Spectrum: Reds, Yellows, Oranges.
Plant Height: Typically elevated due to long stems.
Bloom Season: Spring through Fall.
Leaf Foliage: Bright green, typically located beneath the flowers.
Preferred Conditions: Well-drained soil and full to partial sunlight.
Flower Structure: Elevated flowers held up by long, green stems.
History:
Nasturtiums have long been a garden favorite, tracing back to their native habitats in Central and South America. These were then introduced to Europe in the 16th century, where they quickly gained popularity, not only as ornamental plants but also for their edible flowers and leaves. The Jewel Mixed Nasturtium variety, in particular, has been cherished for its lively mix of colors and semi-double flower formation.
Uses:
The Jewel Mixed Nasturtium is a visual delight, making it a favorite choice for garden borders, hanging baskets, and containers. Their vibrant flowers not only brighten up gardens but are also edible, adding a peppery flavor to salads. Additionally, their leaves and seeds can be consumed, offering a blend of culinary and aesthetic benefits.
Growth Habit & Planting Instructions:
Nasturtiums are renowned for their undemanding nature. They prefer well-draining soil and thrive in full to partial sunlight. When sowing, space the seeds about 10-12 inches apart to allow ample room for growth. The long stems of the Jewel Mixed Nasturtium elegantly elevate its flowers, showcasing them in all their colorful glory. Regular watering and occasional feeding will ensure a prolific bloom from spring to fall, turning any garden space into a vibrant spectacle.