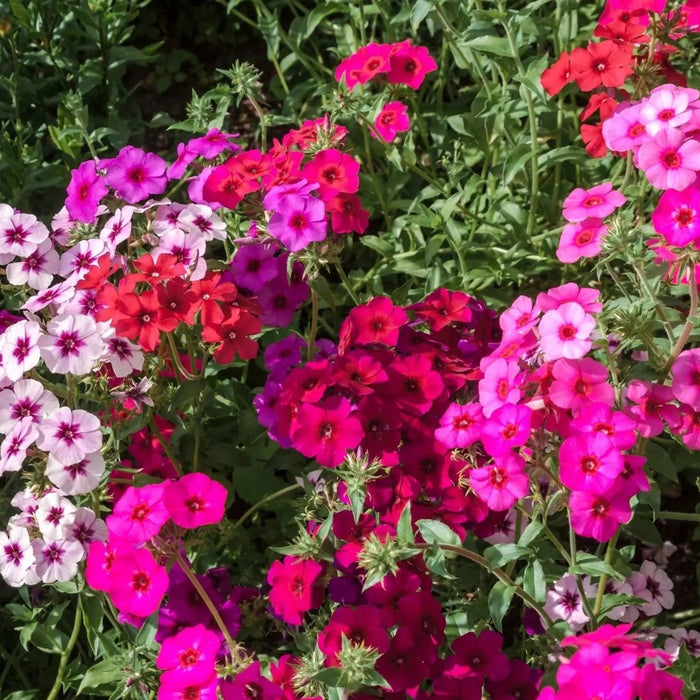 Phlox Seeds - Mixed Colors
Original price
$2.00
-
Original price
$2.00
Seed Count: 30 seeds
Maturity Date: 50-65 days after planting
Plant Type: Annual
Color: Mixed colors including yellow, salmon, pink, rose, and white
Plant Height: 8-16 inches
Spread: 9-12 inches
Sun Requirements: Full sun to partial shade
Soil Requirements: Well-drained soil, moderately fertile
History: Phlox Drummondii is native to Texas and the southeastern United States, where it has thrived in open fields and meadows. Named after Thomas Drummond, a 19th-century Scottish botanist who collected samples during his explorations of Texas, this plant species has since been cultivated in various parts of the world. Its various hues and easy-growing nature have made it a popular choice among gardeners and florists alike, coming to symbolize the essence of southern gardens.
Uses: This beautiful mix of Phlox Drummondii is particularly well-suited for container gardening, making it a versatile choice for both indoor and outdoor displays. It also works splendidly in garden borders, rock gardens, and as ground cover. The mixed colors offer a unique aesthetic appeal, adding depth and dimension to any floral arrangement. Moreover, Phlox Drummondii is attractive to pollinators such as bees and butterflies, making it an ecologically beneficial addition to your garden.
Growth Habit and Planting Instructions: Phlox Drummondii is an annual that typically reaches a height of 8-16 inches with a spread of 9-12 inches. These plants prefer full sun but can tolerate partial shade. They grow best in well-drained, moderately fertile soil. To plant, lightly cover the seeds with soil and space them about 8-10 inches apart. Sowing can be done in early spring for a vibrant summer display. Water consistently but do not saturate the soil. Seedlings should emerge within 10-21 days, depending on soil and weather conditions. With a quick maturity date of 50-65 days, these plants will soon reward you with a vibrant, multicolored floral display that lasts through the season.