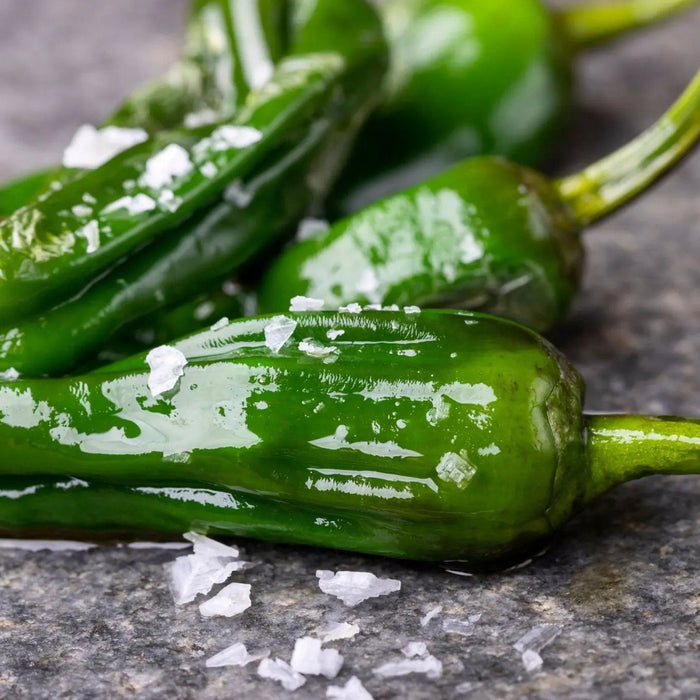 Pepper Seeds - Pimiento De Padron
Original price
$2.00
-
Original price
$2.00
15 Seeds per Packet
Maturity: 60 Days from Planting
Heat Level: Mild Spice
Flavor: Lively crunch with a mildly spicy undertone
Serving Suggestion: Sauté and season
Usage: Traditional tapa and versatile garnish
Origin: Padron, Spain
Plant Size: Compact
History: Originating in the town of Padrón in the region of Galicia, Spain, the Pimiento de Padrón is a famed Spanish heirloom pepper. These peppers have a rich history tied to Spanish cuisine and are notably celebrated during the early summer harvest festivals in their town of origin. Over time, their popularity has grown, and they've made their way into kitchens worldwide, prized for their unique combination of mild heat and rich flavor.
Uses: Traditionally, Pimiento de Padrón peppers are served as a tapa in Spain. Simply sautéed in olive oil until their skin starts to blister, they are then seasoned with coarse-ground sea salt and served hot. While most of these peppers are mild, there's a saying that "some are hot and some are not", hinting at the occasional fiery surprise in a batch. Beyond traditional preparations, their lively crunch and flavor make them an exquisite garnish for a variety of dishes, from meats to salads.
Growing Habits & Planting Instructions: Start Pimiento de Padron seeds indoors about 6-8 weeks before the last expected frost. Choose a well-draining soil with a pH level of 6.2-7.0. When seedlings have at least two sets of true leaves and the danger of frost has passed, transplant them outdoors, spacing them about 12-18 inches apart. They thrive best in full sun and require regular watering, ensuring the soil remains moist but not waterlogged. As they grow, the peppers will transition from green to a deeper shade, indicating maturity and readiness for harvest. While they can be left on the plant longer for increased heat, harvesting them young ensures the mild flavor they are renowned for.