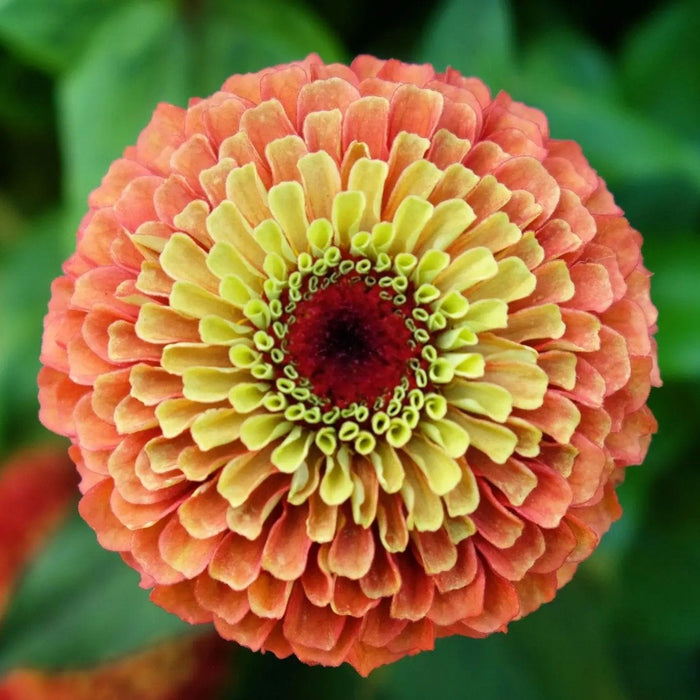 Zinnia Seeds - Queen Lime Orange
Original price
$2.00
-
Original price
$2.00
Seed Count: 10 Seeds
Maturity Date: 75-90 Days
Plant Type: Annual
Flower Color: Apricot with a blush of lime and a bright-rose center
Plant Height: 24-36 inches
Flower Size: 2-3.5 inches in diameter
Light Requirements: Full Sun
Soil Requirements: Well-drained, moderately fertile soil
History: The Queen Lime Orange Zinnia is part of the illustrious Queen series, a collection of Zinnia cultivars known for their unique and striking color combinations. Originating in Mexico and popularized in gardens around the world, Zinnias have a long history of cultivation. Their ease of care, vibrant colors, and long-lasting blooms have made them a staple in summer gardens. This specific variety stands out for its unusual blend of apricot, lime, and rose colors, providing a unique twist on a classic flower.
Uses: With its eye-catching color palette, the Queen Lime Orange Zinnia is an ideal choice for a range of applications. It's perfect for adding a pop of color to flower beds, borders, and containers. Furthermore, it is an excellent cut flower; its bold hues create vibrant, long-lasting arrangements. The flower's large size and striking color also make it a prime candidate for focal points in mixed bouquets. In addition to its aesthetic qualities, the Zinnia also attracts pollinators like butterflies, enhancing your garden's ecosystem.
Growth Habit and Planting Instructions: Growing up to 36 inches tall, the Queen Lime Orange Zinnia is best suited for the middle or back of flower beds. It requires full sun and thrives in well-drained, moderately fertile soil. To plant, sow seeds directly in the garden after the last frost, spacing them about 9-12 inches apart. Cover lightly with soil and water thoroughly. Seedlings should emerge in 7-14 days. Once plants are established, they are relatively drought-tolerant but will benefit from regular watering in prolonged dry periods. The blooms begin to appear 75 to 90 days from planting, providing a splash of color throughout the summer and into the early fall. Deadheading spent blooms will encourage further flowering and prolong the blooming season.