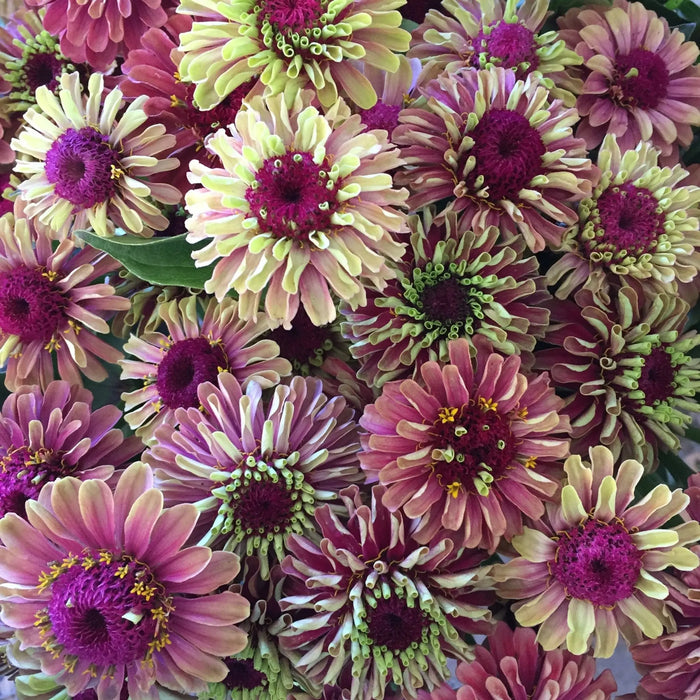 Zinnia Seeds - Queen Red Lime
Original price
$2.00
-
Original price
$2.00

Seed Count: 10 Seeds
Maturity Date: 60-75 Days
Plant Type: Annual
Height: Up to 3 feet
Flower Colors: Burgundy and Lime
Flower Size: 2-3½ inches in diameter
Growing Conditions: Full Sun, well-drained soil
Special Features: Cut-and-come-again, attracts pollinators
History: The Queen Red Lime Zinnia is a unique and captivating member of the illustrious Queen Zinnia series. Its striking coloration sets it apart from other zinnias, combining deep burgundy and creamy lime hues. Native to Mexico, zinnias have become a staple in gardens worldwide, but this variety, in particular, is prized for its rare coloration and versatile uses. It fits right in with contemporary garden trends that appreciate both bold colors and subtle gradients.
Uses: This variety is not just a showstopper in the garden; it also makes an excellent cut flower. The unique color transition from burgundy to lime offers a level of sophistication to any bouquet or floral arrangement. These zinnias are also "cut-and-come-again," meaning they will continue to bloom after cutting, giving you an ongoing supply of fresh flowers throughout the season. The 2-3½ inch blooms are ideal for adding both height and color to arrangements. Additionally, like other zinnias, the Queen Red Lime variety is a magnet for pollinators, making it a useful plant for anyone looking to boost the biodiversity of their garden.
Growth Habit and Planting Instructions: Queen Red Lime Zinnias are annuals that can reach up to 3 feet in height, making them suitable for mid- to back-border placements in flower beds. Plant them in full sun and well-drained soil for the best results. Seedlings emerge in 7-14 days when the soil temperature is between 70-80°F. Sow the seeds directly outdoors in the spring after the danger of frost has passed, or start them indoors 4-6 weeks before the last frost date for earlier blooms. Plant seeds about a quarter-inch deep and space them 9-12 inches apart. Water thoroughly and maintain consistent moisture, especially during dry spells. Expect your first blooms in 60 to 75 days, and remember to cut the spent blooms to encourage new flower growth.