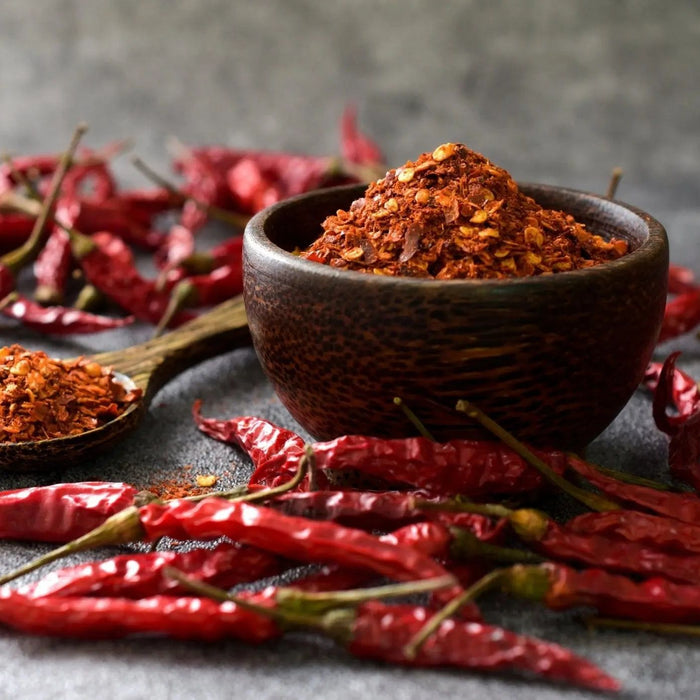 Pepper Seeds - Hot - Red Rocket Cayenne
Original price
$2.00
-
Original price
$2.00
25 Seeds
55-75 Days
Sweet and Hot Flavor
Early Drying
Est. 10,000-20,000 SHU
Fast-drying and early for strings
Fresh and dried fruits with thin walls and bright colors
Fruits typically measure between 5 and 6 inches long
History: The Red Rocket Cayenne Pepper is the product of careful breeding by Rob Johnston, Jr. This variety was specifically cultivated to mature early and produce high yields. Its vibrant color and unique flavor profile make it a standout amongst pepper varieties. Its rich heritage ensures that the pepper retains its authentic taste and texture, making it a favorite amongst gardening enthusiasts.
Uses: Red Rocket Cayenne Peppers are a culinary delight, adding both heat and a touch of sweetness to any dish. Their thin walls make them perfect for drying, and their early drying feature ensures that they're ready to use in record time. This variety can be strung up to create pepper strings, a decorative and practical way to store and display the peppers. Both in their fresh and dried forms, they serve as a versatile ingredient, amplifying the taste of various dishes.
Growing Habits & Planting Instructions: Plant seeds around a quarter-inch deep in well-draining soil, ensuring they're spaced adequately to give each plant room to grow. These peppers thrive in full sunlight and prefer consistent moisture without being waterlogged. As the plant matures, it will produce brightly colored fruits with thin walls, ideally suited for drying. Regularly check the peppers for ripeness. Harvest when they have achieved a bright hue and reached an average length of 5 to 6 inches. Proper care will yield a generous number of peppers from each plant.