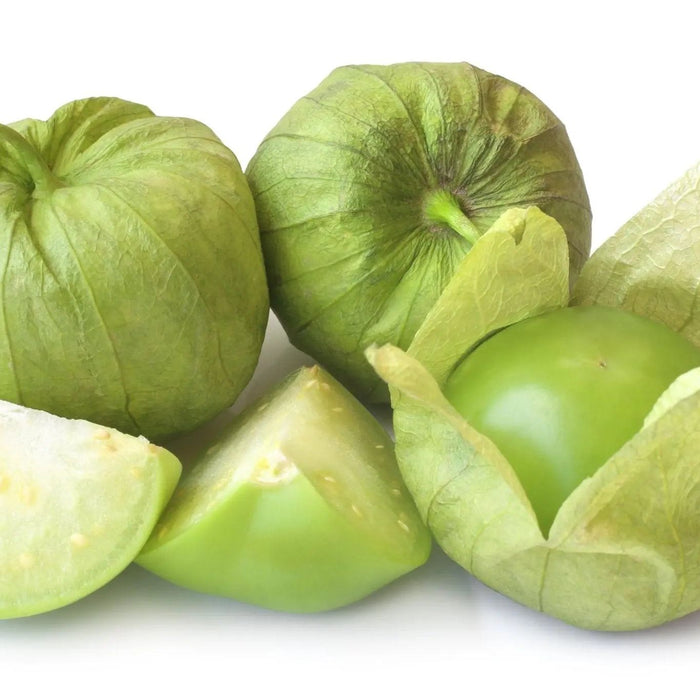 Tomatillo Seeds - Rio Grande Verde
Original price
$2.00
-
Original price
$2.00
Seed Count: 25 Seeds
Maturity Date: 85 Days from Planting
Fruit Characteristics: Apple-Green, Large Globe Shape, Weighing 3-4 Ounces
Flavor: Slightly Sweeter and More Flavorful than Traditional Tomatillos
Plant Growth: Medium-sized, Determinate, No Need for Staking
Yield: High Yielding, Producing an Abundant Harvest
Origin: A Cultivated Selection for Enhanced Size and Flavor
Use: Versatile in Culinary Preparations Including Stuffed, Roasted, or in Salsa Verde
History:
The Río Grande Verde tomatillo, a unique twist on traditional tomatillos, has been carefully cultivated and selected for its larger and more flavorful fruits. While most tomatillos are known for their smaller size, the Río Grande Verde sets itself apart with its impressive 3-4 ounce globe fruits. Its roots trace back to farming practices that aimed to yield a fruit that strikes the perfect balance between size, sweetness, and flavor.
Uses:
With a slightly sweeter note and enhanced flavor, the Río Grande Verde tomatillo is the chef's dream ingredient. Its larger size makes it perfect for unique culinary experiments, such as stuffing. Of course, it shines brilliantly in the traditional Salsa Verde, lending a richer taste to the mix. Roasted, it reveals a depth of flavor, making it a delightful addition to omelets and other dishes.
Growing Habits & Planting Instructions:
Kick off your Río Grande Verde journey by planting the seeds indoors, ideally around 6-8 weeks before the last frost date. Once the seedlings have matured and there's no risk of frost, it's time to transplant them outdoors. Choose a spot with plenty of sunshine for these tomatillos to thrive. The plants are determinate, meaning they grow to a fixed size and produce all their fruits in a short time frame. One of the joys of cultivating Río Grande Verde is that these medium-sized plants don't demand staking. Ensure regular watering and maintain well-drained soil. As the fruits grow and achieve their characteristic apple-green color, it's a sign that a flavorful harvest awaits you.