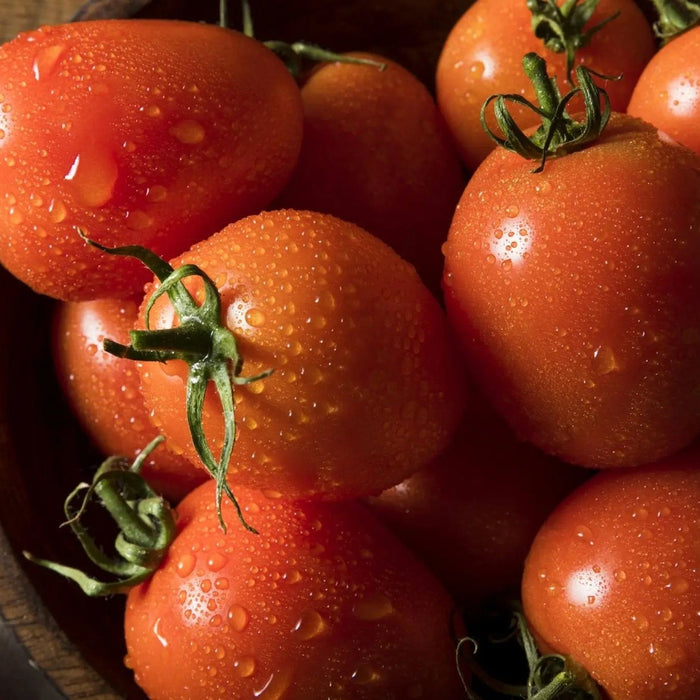 Tomato Seeds - Roma
Original price
$2.00
-
Original price
$2.00
25 Seeds
75 Days to Maturity
Highly Meaty and Low Seed Content
Compact Plants with Horizontal Vines
Resistant to Verticillium and Fusarium Wilts
Perfect for Sauces and Pastes
Requires Regular and Adequate Watering
Determinate Growth Habit
History:
The Roma Tomato has made its mark as a reliable staple in gardens worldwide. Originating from Italy, this tomato was specifically bred for its dense, meaty flesh, making it a favorite for sauces, pastes, and canning. Over the years, it has cemented its status as a go-to tomato variety for those seeking fewer seeds and more tomato goodness in their culinary preparations.
Uses:
True to its Italian origins, the Roma Tomato is a champion when it comes to pasta sauces, salsas, and tomato pastes. Its low moisture content and few seeds mean it cooks down into rich and flavorful sauces, capturing the essence of summer in every jar or dish. Beyond sauces, Roma tomatoes can also be roasted, stewed, or even eaten fresh, offering a burst of traditional tomato flavor.
Growing Habits & Planting Instructions:
Roma Tomatoes are determinate, meaning they grow to a fixed size, produce all their fruit in a short span, and then decline. Start by planting seeds indoors 6-8 weeks before the last expected frost. Once they are ready to be transplanted outdoors, ensure they are placed in a sunny location in well-draining soil. As the plants mature, ensure they receive consistent watering, especially during the fruiting stage. Fertilize once the first fruits appear to ensure a bountiful yield. While they are disease-resistant, it's always a good idea to keep an eye out for any signs of distress and manage them promptly.