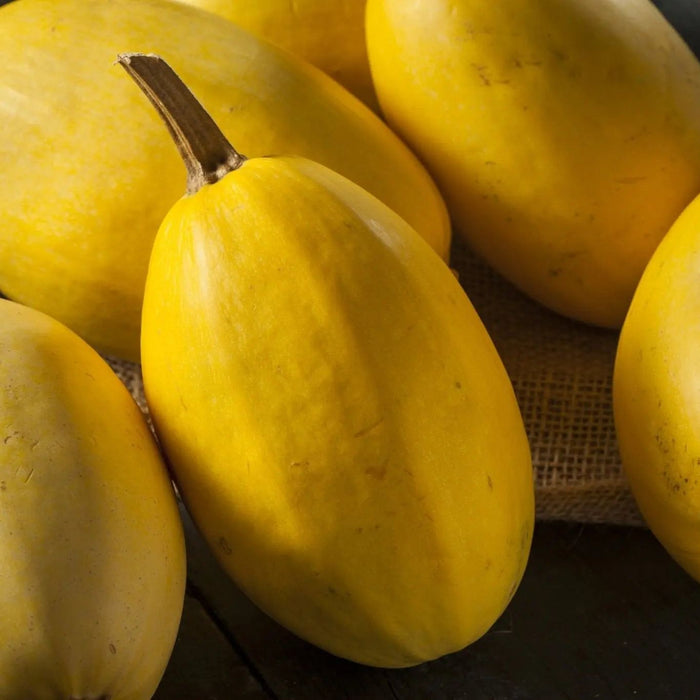 Squash Seeds - Spaghetti
Original price
$2.00
-
Original price
$2.00
25 Seeds
Maturity: 50-55 Days from Planting/Transplanting
Bush to Short Vine Growth Habit
Mild and Nutty Flavor Profile
Versatile Culinary Applications
Rich in Potassium
Multiple Cooking Methods: Roast, Boil, or Steam Can Be Consumed Raw or Cooked
History:
Originating from Central America, the Spaghetti Squash has traveled through time to find its place in gardens and kitchens across the globe. Named for its unique ability to transform into thin, spaghetti-like strands when cooked, this squash quickly gained popularity due to its versatile nature. Over the years, its mild, nutty flavor and unique texture have garnered it a special place in culinary history, bridging the gap between traditional pasta dishes and healthier vegetable-based options.
Uses:
As a testament to its adaptability, Spaghetti squash shines in various culinary preparations. While it can be savored raw, it often replaces traditional pasta when cooked, seamlessly integrating into dishes without compromising flavor. Its mild, nutty taste pairs brilliantly with an array of sauces and seasonings, making it a favorite in pasta-based dishes. Besides the standard spaghetti replacement, creative chefs and home cooks alike have incorporated it into salads, casseroles, and even cold noodle preparations. Beyond taste, its rich potassium content further enhances its nutritional profile, promising both health and flavor in every bite.
Growing Habits & Planting Instructions:
For best results, Spaghetti squash seeds should be planted in a location that receives ample sunlight. Opt for well-draining soil and sow the seeds about an inch deep. Given its bush to short vine growth habit, ensure you space the plants at least 3-4 feet apart to prevent overcrowding. Regular watering and occasional fertilization will promote healthy growth and yield. Typically, in about 50-55 days from planting, the squash reaches maturity, revealing its pale yellow exterior, signaling it's ready for harvest. Once plucked from the vine, it's a canvas ready to be painted with your favorite flavors and culinary techniques.