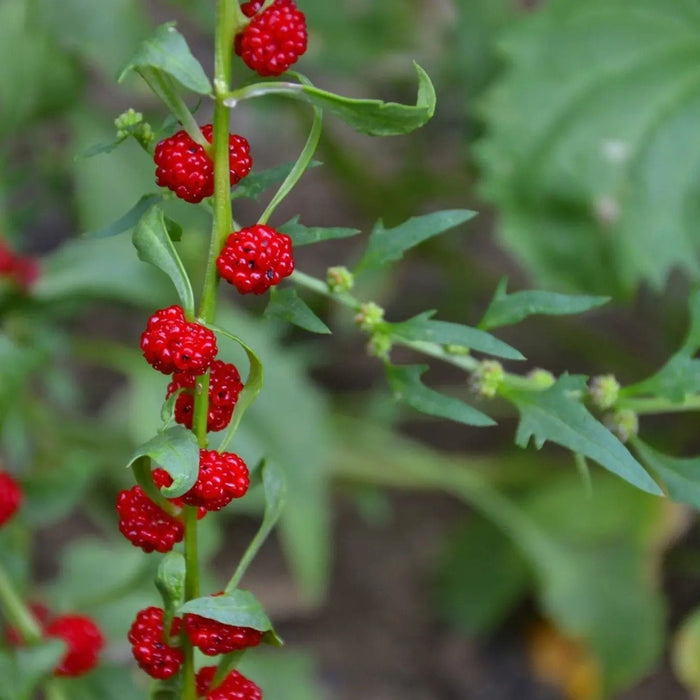 Spinach Seeds - Strawberry
Original price
$2.00
-
Original price
$2.00
30 Seeds
18 Inches Tall
Triangular Leaves
Tender Shoots and Leaves Used in Salads or Steamed
Edible Red Fruits
Self-seeding Annual
90 Days to Maturity
Produces 6-8 Fruit Pods per Shoot
History: Strawberry Spinach, also known as Beetberry or Strawberry Blite, is an old-fashioned herb that has graced European gardens for centuries. Once a common sight, its dual-purpose nature made it a favorite amongst early settlers and indigenous communities. Despite being overshadowed by other greens in recent years, it's making a comeback thanks to its unique appearance and multifaceted uses.
Uses: The tender shoots and leaves of the Strawberry Spinach are celebrated for their peppery flavor, reminiscent of traditional spinach with a hint of zest. They can be enjoyed fresh in salads or steamed as a side dish. But it's not just the leaves that are sought after; the plant's red fruits, which resemble tiny strawberries, are equally edible and bring a mildly sweet flavor. These fruits can be eaten raw, added to salads, or used in desserts, making this plant incredibly versatile in culinary applications.
Growing Habits & Planting Instructions: To cultivate Strawberry Spinach, choose a sunny to partially shaded spot in your garden. The soil should be well-draining and moderately fertile. Sow the seeds directly in the soil after the last frost, covering them lightly. The plants are reasonably drought-resistant once established. They typically grow up to 18 inches tall, sporting distinctive triangular leaves. After 90 days, you can start to harvest the leaves, shoots, and later, the fruits. Being a self-seeding annual, Strawberry Spinach will effortlessly propagate year after year, providing a continuous supply of this delightful green.