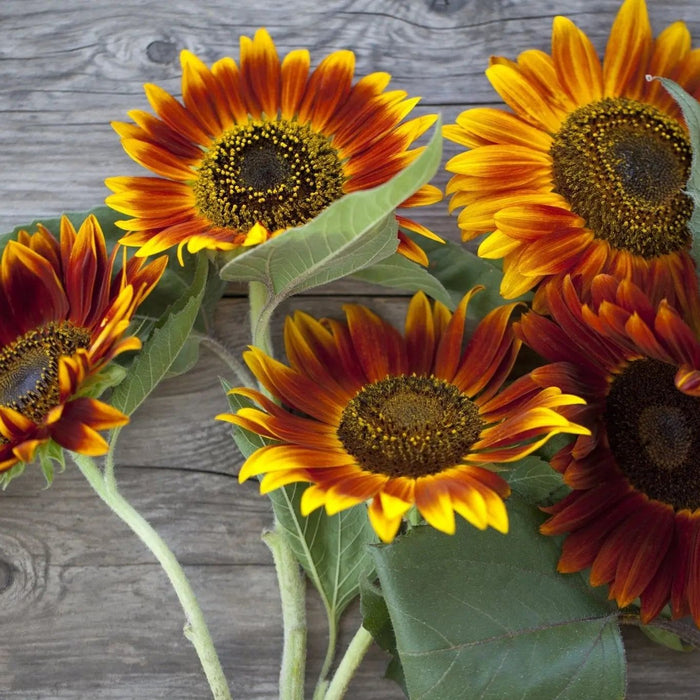 Sunflower Seeds - Autumn Beauty
Original price
$2.00
-
Original price
$2.00
Seed Count: 75 Seeds
Maturity Date: 60 Days from Planting
Plant Height: 5-8 feet tall
Bloom Size: Medium-sized flowers
Petal Colors: Range from yellow to dark burgundy, orange, and bi-color
Stem: Long, graceful stems
Pollen: Bears plenty of pollen
Best Use: Farmscapes, sunflower mazes, and tall border rows
History: Originating as a blend of several sunflower species, the Autumn Beauty Sunflower has a storied background that resonates with its vibrant array of colors. This particular variety has gained popularity for its multi-hued petals, which range from sunny yellow to deep burgundy. Developed to add a touch of drama to gardens and landscapes, it offers medium-sized flowers that transform into eye-catching umbels. Often integrated into farmscapes, sunflower mazes, and border rows, Autumn Beauty Sunflowers have been bred to display a captivating range of colors that reflect the shades of fall.
Uses: The Autumn Beauty Sunflower is not merely ornamental but serves a variety of practical purposes as well. Due to its tall, upright growth habit, it is highly suitable for creating sunflower mazes or using in farmscapes to attract pollinators. It's also a go-to choice for tall border rows in gardens. Bearing an abundance of pollen, these sunflowers are a favorite amongst bees and other pollinators, adding an ecological dimension to their appeal. The long, graceful stems and medium-sized flowers also make these sunflowers excellent cut flowers, adding vibrant hues and textures to bouquets and floral arrangements.
Growth Habit and Planting Instructions: The Autumn Beauty Sunflower is a tall, upright plant that grows to a height of 5-8 feet, making it ideal for backdrops or as stand-alone focal points in the garden. These sunflowers are easy to cultivate. Plant the seeds directly into well-drained soil, spaced about 6 inches apart. As the plants grow, consider thinning them out to allow 12-18 inches between each plant for optimal growth. These sunflowers thrive in full sun and are relatively drought-tolerant, though regular watering is beneficial. Given their rapid maturity rate of 60 days, you can expect a quick burst of colorful blooms that last through the season. Their multi-colored petals make them particularly effective for creating dynamic, visually pleasing landscapes.