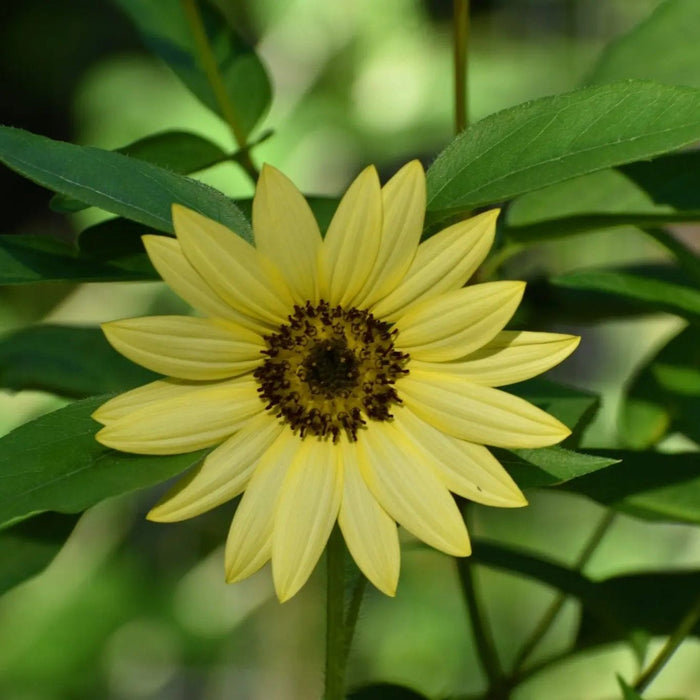 Sunflower Seeds - Lemon Queen
Original price
$2.00
-
Original price
$2.00
Seed Count: 50 Seeds
Maturity Date: 75 Days from Planting
Plant Height: Grows up to 10 feet tall
Flower Color: Soft lemon yellow petals with chocolate brown center
Petal Characteristics: Unique pointed petals in the center
Growth Habit: Upright branching at the top
Planting Companions: Suitable for planting with both tall and short sunflowers
Unique Feature: Stark contrast in height when planted with other sunflowers
History: The Lemon Queen Sunflower is a distinct variety known for its soft lemon-yellow petals and chocolate-brown center. Initially cultivated for gardeners who desire something different from the more commonly seen bright yellow or orange sunflowers, this variety has become a favorite for its unique hue and elegant appearance. Historically, the Lemon Queen Sunflower is appreciated not just for its aesthetics but also for its unique pointed petals in the center, a trait that sets it apart from other sunflower varieties. Growing up to an impressive 10 feet, this plant is a standout feature in any garden or floral arrangement.
Uses: The Lemon Queen Sunflower serves multiple purposes in both aesthetic and practical gardening contexts. Its unique color palette makes it a striking choice for ornamental gardens and it can also serve as a vibrant cut flower for arrangements. Due to its impressive height, it serves well as a backdrop in garden beds, providing a visually arresting contrast when planted with shorter sunflowers. In addition to its beauty, the Lemon Queen is also beneficial to pollinators, attracting bees and butterflies with its pointed, pollen-rich center.
Growth Habit and Planting Instructions: With a growth habit that features upright branching at the top, the Lemon Queen Sunflower can reach up to 10 feet in height, making it an ideal focal point in any garden setting. To plant, place seeds directly into well-drained soil in a location that receives full sun. Space seeds about 6 inches apart and cover with approximately 1 inch of soil. As the plants grow, it may be necessary to thin them, leaving about 18-24 inches between each plant. With a maturity date of 75 days, this sunflower offers relatively quick gratification for gardeners eager to enjoy its unique coloration and impressive stature. Due to its tall nature and branching habit, consider offering some form of support to help the plant maintain its upright position.