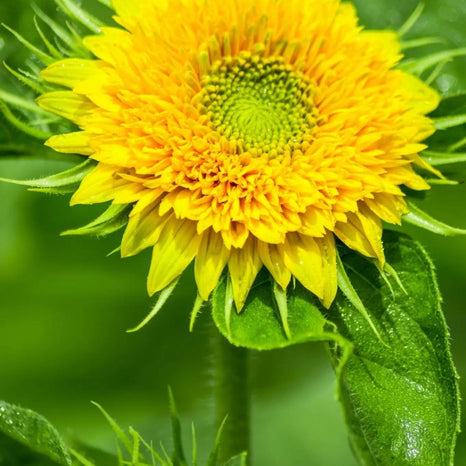 Sunflower Seeds - Sungold Dwarf
Original price
$2.00
-
Original price
$2.00
Seed Count: 50 Seeds
Maturity Date: 75-80 Days from Planting
Plant Height: 24-36 inches
Bloom Size: Large and soft
Petal Color: Golden Yellow
Seed Spacing: 12-24 inches apart
Sun Requirements: Full Sun
Soil Requirements: Well-drained, somewhat drought and heat tolerant
History: The Sungold Dwarf Sunflower is a delightful deviation from the typical towering sunflower varieties. Originally bred for smaller gardens and tighter spaces, the Sungold Dwarf maintains the mesmerizing beauty of larger sunflowers while fitting into smaller landscapes. Its unique, bushy flowerheads have not only made it popular among gardeners but have also positioned it as a valuable food source for pollinators. Despite its compact size, this variety has not compromised on its aesthetic appeal, bringing the same burst of golden beauty as its taller relatives.
Uses: The Sungold Dwarf Sunflower has a versatile array of uses that make it a valuable addition to any garden. Its compact size makes it an ideal candidate for garden borders, while its rich golden blooms serve as attractive cut flowers. Its unique flowerheads are bushy and full, making them particularly alluring to pollinating insects like bees and butterflies. Moreover, the sunflower's bloom season lasts from summer through mid-fall, providing a long-lasting burst of color to gardens. With its easy-to-care nature and heat and drought tolerance, this sunflower variety can bring beauty to a variety of settings.
Growth Habit and Planting Instructions: Growing to a modest height of 24-36 inches, the Sungold Dwarf Sunflower is well-suited for small to medium-sized gardens. Planting is straightforward—sow seeds 1/2 inch deep, initially spacing them 12 inches apart. After seedlings have sprouted, thin them out to a distance of 24 inches for optimal growth. The plants prefer full sun and are relatively drought and heat tolerant, but they will still benefit from well-drained soil and regular watering. Expect to see the first blooms within 75-80 days from planting, with the sunflowers continuing to bloom until mid-fall. Their manageable size makes them suitable for container gardening as well, offering flexibility for gardeners with limited space.