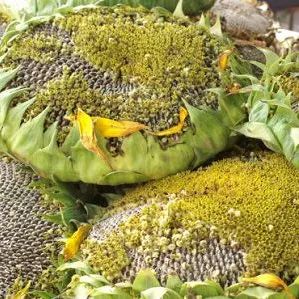 Sunflower Seeds - Titan
Original price
$2.00
-
Original price
$2.00
Seed Count: 10 Seeds
Maturity Date: 75 Days
Plant Height: Grows up to 12 feet tall
Flower Size: Flower heads grow up to 18-24 inches across
Ease of Growth: Easy to grow, requiring minimal care
Visual Impact: Gigantic flower heads make a striking impression
Seasonal Enjoyment: Blooms in warmer weather
Soil Requirements: Adaptable to various soil types
History: The Titan Sunflower is aptly named for its colossal size, with some individuals reaching staggering heights of up to 12 feet. It has gained considerable attention among gardeners and horticulturalists alike for its monumental flower heads, which can span between 18 to 24 inches across. Originating from North America, this sunflower variety has become a popular choice in gardens around the world, where it adds a sense of awe and grandeur.
Uses: The Titan Sunflower isn't just a marvel to look at; it has practical uses too. Its large flower heads are not just visually stunning but also produce an abundant yield of seeds that can be used for bird feed or human consumption. Additionally, their size and prominence make them excellent choices for cut flowers, providing a spectacular focal point in any bouquet or arrangement. Their grandiose appearance can also make them the center of attention in garden contests and exhibitions.
Growth Habit and Planting Instructions: Planting the Titan Sunflower is a simple affair, despite its imposing size. Seeds should be sown 1 inch deep, with a spacing of about 18 inches between each seed to give the plants plenty of room to spread out. Due to their towering heights, it may be beneficial to place them at the back of a garden bed or to provide some form of support to keep them upright, especially in windy conditions. They thrive best in well-drained soil and prefer full sun exposure. With a maturity date of just 75 days, these giants are surprisingly quick to bloom, making them a rewarding addition to any garden.