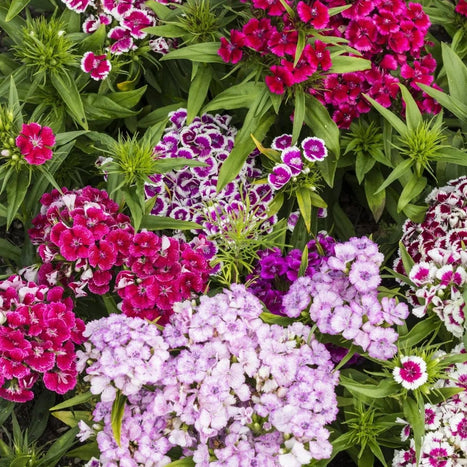 Sweet William Seeds - Tall Single Mix
Sold out
Original price
$2.50
-
Original price
$2.50
Seed Count: 25 Seeds
Maturity Date: Flowers bloom in their second year after sowing.
Plant Type: Hardy biennial or short-lived perennial.
Origin: Historically beloved in European cottage gardens.
Height: 18-24 inches tall.
Spread: 12-18 inches wide.
Color Palette: Pink, red, white, and bi-colored.
Soil and Light Requirement: Thrives in full sun to part shade in well-drained soil.
History: The Sweet William, particularly the 'Tall Single Mix' variant, boasts a rich legacy intertwined with the annals of European gardening. Having graced the cottage gardens of the old continent for centuries, Dianthus Barbatus has always been celebrated for its quintessential, old-fashioned charm. It carries tales of romance, folklore, and time-honored gardening traditions, serving as a bridge between the past and present. Over the decades, while gardening trends have evolved, the allure of Sweet William has remained undiminished, making it a testament to timeless beauty and appeal.
Uses: The classic beauty of Sweet William's 'Tall Single Mix' serves multiple purposes in both gardens and homes. With its vibrantly colored blooms, it becomes an instant focal point in gardens, infusing spaces with a nostalgic charm reminiscent of days gone by. As a cut flower, Sweet William breathes life into indoor settings, bringing along with it memories of sun-dappled gardens. Moreover, it's not just the human admirers that this plant attracts. The vivid hues and fragrant scent act as a beacon for pollinators, with bees and butterflies frequently visiting. Whether standing proud in borders, filling up cottage gardens, or resting in a vase on a windowsill, Sweet William invariably adds character and old-world charm.
Growing Habits & Planting Instructions: Sweet William, in its 'Tall Single Mix' avatar, is a joy to cultivate, ensuring rewarding results with minimal effort. Start by choosing a location that offers well-draining soil, complemented by either full sunlight or partial shade. Once the perfect spot is found, sow the seeds, covering them lightly with soil. Given their biennial nature, patience is key, as the most vibrant blooms appear in their second year. The plant requires consistent watering, especially during dry spells, but without letting it stand in waterlogged conditions. Maintenance is straightforward, with occasional deadheading promoting a prolonged blooming period. Offering both aesthetic appeal and hardiness, Sweet William is a gift to gardeners, promising seasons of beauty and charm.