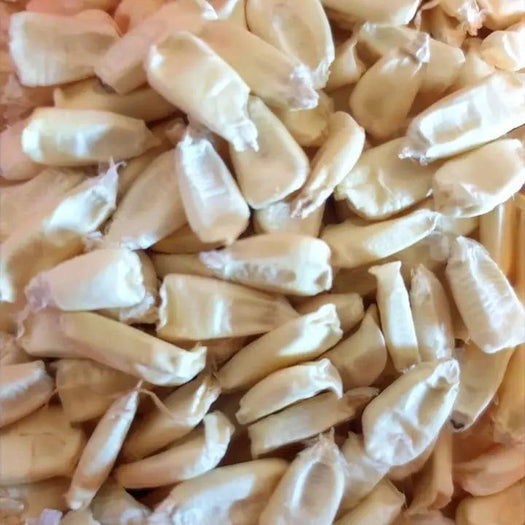 Corn Seeds - Texas Gourdseed
Save

50

%
Save

50

%
Original price
$4.00
-
Original price
$4.00
Seed Count: 100 Seeds

120 Days to Maturity
Type: Dent Corn/Gourdseed
Height: Up to 8 ft tall
Ears per Stalk: 2
Kernels: 18-22 rows, Cream-colored white
Origin: Brought from Appalachia by German immigrants
History: Texas Gourdseed Corn boasts a rich tapestry of historical significance. Initially cultivated in the Appalachian region, it was brought over to the southern tip of Texas by German immigrants. This move wasn't just geographical but also symbolized a blending of cultural traditions and agricultural practices. The corn, aptly named for its gourdseed-like kernel shape, became a cherished staple in Texas, marking its significance in the region's agricultural evolution.
Uses: The cream-colored kernels of Texas Gourdseed Corn have been celebrated for generations, both for their unique appearance and their culinary versatility. Often ground into cornmeal, this variety has graced many a table in the form of tortillas, bread, and other staple dishes. Beyond its culinary uses, Texas Gourdseed also finds its way into various traditional ceremonies and events, paying homage to its deep-rooted history.
Growing Habits & Planting Instructions: For the Texas Gourdseed Corn to flourish, it requires a full sun environment. Standing at an impressive 8 ft, the plant requires ample space to reach its full growth potential. While it is known for its incredible resistance to most diseases, it does show susceptibility to smut. One of its most significant advantages is its ability to thrive even in less fertile or clayey soils, a testament to its hardiness and adaptability. Planting should be done with seeds spaced sufficiently apart to accommodate its growth, ensuring each stalk has enough room. Regular watering and monitoring for smut are crucial for a bountiful harvest.