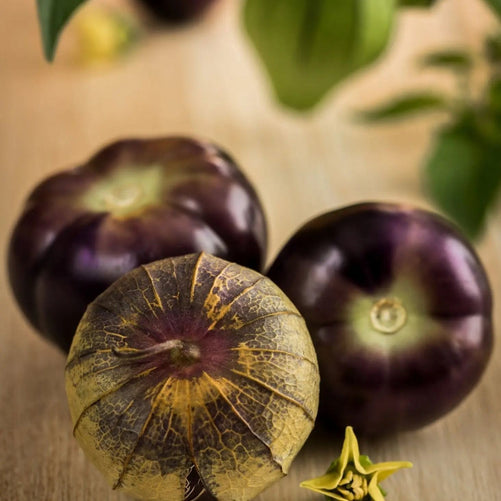 Tomatillo Seeds - Purple de Milpa
Original price
$2.00
-
Original price
$2.00
Seed Count: 50 Seeds
Maturity Date: 70-90 Days from Transplant
Fruit Characteristics: Purple Hue, Less Than 1 inch in Diameter
Plant Height: 3-4 Feet Tall
Origin: Known to Grow Wild in Mexican Cornfields
Nutritional Benefits: High in Antioxidants and Vitamin C
Flavor Profile: Strong, Zingy Flavor
Indicators of Ripeness: Husk Surrounding the Tomatillo, Tight Fruit Inside the Husk
History:
The Purple De Milpa Tomatillo stands as a testament to nature's wild beauty, having its origins in the vast cornfields of Mexico where it grew unfettered. This rare and naturally occurring variant of the tomatillo offers a beautiful purple hue, setting it apart from its green counterparts. Its existence and spread in traditional Mexican agriculture only add to its allure.
Uses:
A powerhouse of flavor and nutrition, the Purple De Milpa Tomatillo brings both health benefits and an explosive taste to the table. Packed with antioxidants and vitamin C, these tomatillos are a great choice for health-conscious snackers. But it's their vibrant zingy flavor that truly shines, enhancing dishes from creamy guacamole, zesty salsas, heartwarming soups, to traditional tamales. The deep purple adds a touch of aesthetic appeal to any dish.
Growing Habits & Planting Instructions:
Kickstart your Purple De Milpa Tomatillo journey by transplanting seedlings or directly sowing seeds in warm soil. These plants prefer a sunny spot, ensuring they reach their potential height of 3-4 feet. Regular watering, occasional feeding, and a watchful eye for their characteristic purple hue will guide you to harvest time. Remember, ripe tomatillos are encased in a husk and should feel tight inside. Once they reach this stage, you're ready to reap the fruits of your labor and enjoy the taste of Mexico in every bite.