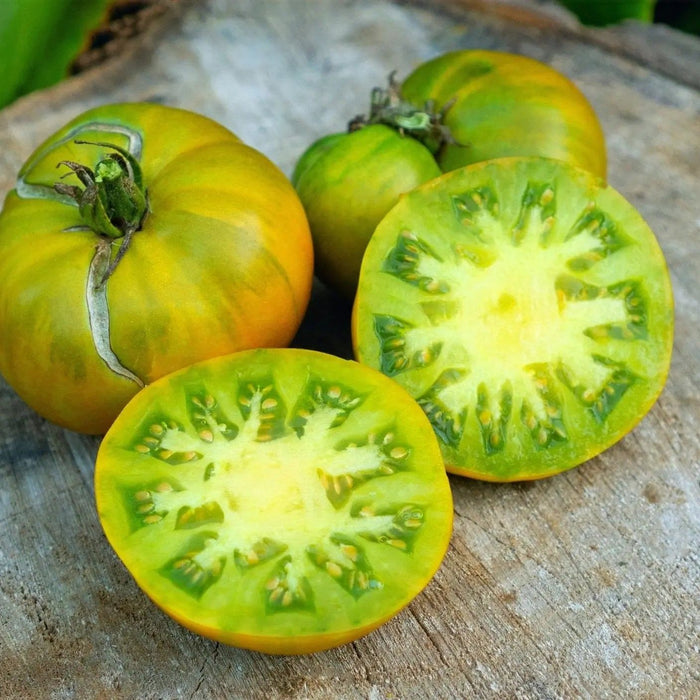 Tomato Seeds - Aunt Rubys Green German
Sold out
Original price
$2.75
-
Original price
$2.75
Seed Count: 25 Seeds
Maturity Date: 80-90 Days from Transplanting
Large Beefsteak-type Fruits
Green when Ripe with a Yellow-Orange Blush
Fruits weigh between 1-2 lbs
Indeterminate Growth Habit: Continuous Fruit Production
Optimal Conditions: Full Sun & Well-Drained Soil
Flavor Profile: Sweet, Fruity with a Tangy Aftertaste
History:
Tracing its roots to the kitchens and gardens of yesteryears, Aunt Ruby's Green German tomato stands as a testament to the rich tradition of heirloom tomato cultivation. Named in honor of Ruby Arnold of Greeneville, Tennessee, this variety captures the essence of old-world charm and flavor that has been passed down through generations.
Uses:
This isn't just another green tomato; its distinct flavor sets it apart. While its deep green color, accented with a yellow-orange blush, offers visual appeal, its culinary applications are where it truly shines. The sweetness, punctuated with a hint of tang, makes it a coveted addition to sandwiches and salads. Those who appreciate a fresh burst of flavor will find it an excellent base for sauces, making Aunt Ruby's Green German a versatile kitchen companion.
Growing Habits & Planting Instructions:
For those keen on nurturing this unique variety, seeds should be initiated indoors, around 6-8 weeks prior to the last frost. Once the young plants are ready for transplantation, ensure they're spaced adequately, ideally 24-36 inches apart, in a sunny location. Aunt Ruby's Green German tomato, being an indeterminate type, will provide a consistent harvest throughout the season. While they flourish with minimal intervention, a well-drained soil and regular watering regime are recommended to maximize yield and flavor.